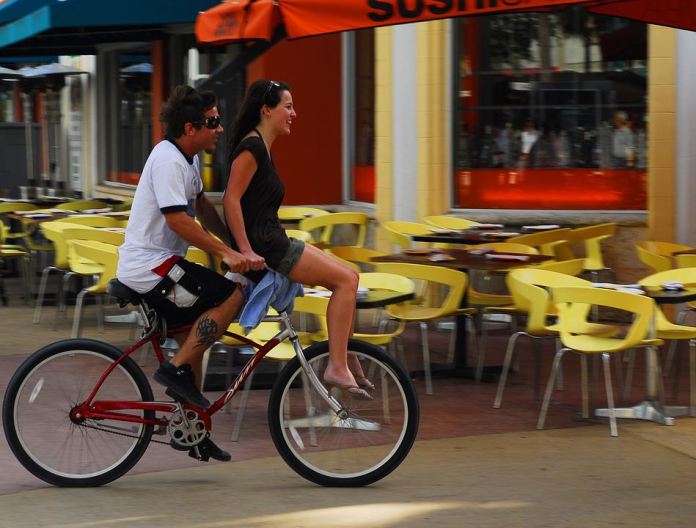 Miami is a bustling metropolis with a lot to offer tourists and locals alike.
With its sandy beaches, clear blue waters, and lively nightlife, it's no wonder that Miami is one of the most popular vacation destinations in the world. 
However, getting around Miami can be tricky if you don't know your way around.
Check out this guide on how to get around Miami like a local.
Use the Metrorail and Metromover
Metrorail is a rapid transit rail system in Miami, Florida.
The Metrorail system is composed of two lines, 23.5 miles (37.8 km) in length. The system has 21 stations and connects to the Metromover at four stations.
The Metromover is a people mover system that operates in Downtown Miami. The Metromover has three lines, 2.4 miles (3.9 km) in length. The system also has 21 stations and connects to the Metrorail at four stations.
Metrorail and Metromover services in Miami cost riders $2.25 per trip, with a $0.50 surcharge for trips that include transfers to Metrobus service.
There is also a $5 daily pass available for unlimited rides on Metrorail and Metromover services.
Take the Bus and Trolley
The Miami bus and trolley system is a public transportation system operated by the Miami-Dade Transit agency.
The system consists of buses and trolleys that run on a network of streets and highways. The bus and trolley system provides service to many of the city's major attractions, including the Miami Beach area, Downtown Miami, and the Port of Miami.
A single ride on Miami's bus or trolley system costs $2.25. A 7-day unlimited pass costs $17, and 31-day complete access costs $60.
You can go about South Beach for free using the South Beach Trolley.
Use Taxi, Uber, or Lyft
Travelers can use a taxi, Uber, and Lyft services to Miami to get around the city, too. These services can be used to pick up and drop off passengers at their desired locations.
There is no definitive answer as to pricing for these services.
It can vary depending on several factors, such as the time of day, the specific location, and demand.
However, as a general estimate, taxi services in Miami typically cost around $2.50 per mile, while Uber and Lyft rates start at around $1.50 per mile.
Since taxis can be pretty expensive, use them only sparingly if you want to stay within your holiday budget.
Try Pedestrian Routes
Miami is a very walkable city with a lot of sidewalk space and pedestrian-friendly streets.
The weather is also conducive to walking, with relatively mild temperatures year-round. Vacationers and locals love walking and biking around the city, especially along the gorgeous beaches.
The Beachfront is the main attraction of Miami Beach, which features several miles of palm-tree-lined beaches and attracts some 25 million visitors every year. Most visitors to Miami Beach are domestic tourists, but there are also many foreign visitors, mainly from Latin America.
One of the major attractions on South Beach is the line of movie theatres. The theaters shows classic and independent films in a beautiful setting.
Other tips to make visiting Miami a breeze
The weather is warm and humid year-round, so be sure to dress appropriately.
Beach attire is acceptable in most places, but some restaurants and businesses have a more strict dress code.
If you can't leave your luggage at a hotel, there is short-term luggage storage in Miami through companies like Vertoe.
Miami has a diverse population, so be respectful of different cultures and customs.
Now that you know how to get around Miami like a local. 
What are you waiting for? Start planning your trip today!
Also Read More: What Is a Crypto Exchange?