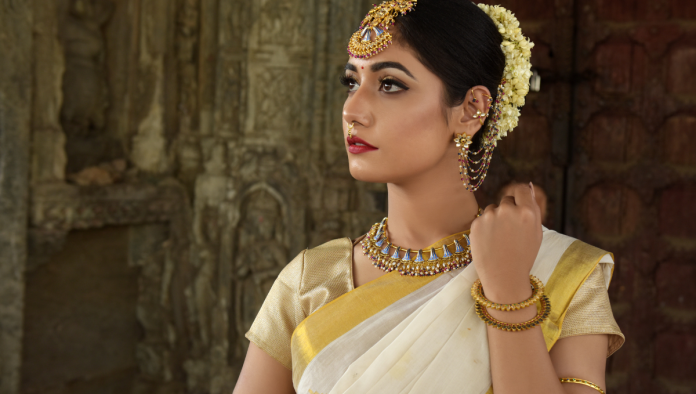 Traditional jewelry is an essential part of all Indian weddings. Apart from the bridal jewelry, every family member brings out their best ensemble of ornaments with every outfit as a symbol of prosperity and auspiciousness. But did you know that traditional Indian jewelry is almost as diverse as traditional Indian clothes?
Getting Indian fashion right is as much about accessorizing as clothes. Just like clothes, cuisine, and language, jewelry designs in different Indian regions reflect their individuality and culture. And so, here's a detailed guide to the various designs of Indian jewelry for weddings and other occasions to help you choose the right accessories for ethnic Indian outfits.
Indian Jewelry in Different Parts of India
Traditional wedding jewelry is an expression of celebration and joy. You'll find that most traditional designs in Indian jewelry reflect the vitality and beauty of Indian festivities. Unlike western jewelry, Indian jewelry is confined to necklaces and earrings and includes many accessories from mattha tikka to bangles, bracelets, and even anklets.
Rajasthani traditional jewelry
Home to some of the most regal designs popular in Indian jewelry for weddings, the Rajasthani jewelry is unique with antique and contemporary designs. Popular forms of traditional Indian jewelry such as Kundan, Polki, Thewa, and meenakari originated in Rajasthan and are worn worldwide today. Some of the best-loved pieces include the rani haar, jhumka (earring), and bajuband (armband).
Originating from the vibrant western Indian state, traditional Gujarati jewelry is famous for its colorful designs and bright look. Gujarati jewelry combines precious metals and semi-precious stones to create unique designs that instantly enliven an ethnic outfit. The Kundan rani haar, damini (forehead ornament), and Kundan butti are some beautiful pieces of traditional Gujarati jewelry that brides love.
Punjabi brides are recognized worldwide for their heavy sets of red bangles that they wear for several weeks after the wedding. These bangles are called chooda and are gifts to the bride from the maternal side. Apart from the chooda, traditional Punjabi jewelry is famous for the prominent Nath or nose rings, Kamar bandh (belt), necklaces, and jhumka (earrings). True to Indian traditional style, Punjabi jewelry has stunning and extravagant designs.
South Indian culture is known for elegant clothes and temple-style jewelry inscribed with motifs of divine figures on gold and other precious metals. A lot of women choose to combine these deeply ethnic jewelry designs with modern and traditional attires for a unique look. Depending on the region you consider, you will find a diverse set of designs with South Indian traditional jewelry.
Categorized by unique designs and sophistication, traditional Bengali jewelry symbolizes female pride. Some of the distinctive ornaments in Bengali jewelry include the Kaan Bala (earring), the gold chur made of 50grams of gold, the bokul mala (necklace), and the traditional Indian choker necklace, that cannot be set below the collar bone – it is usually worn as a part of bridal jewelry.
Famous for the nath or nose rings, designed especially for brides – the Bihari Jewelry is exotic, colorful, and consists of subtle designs. Popular pieces like the choker necklace, tikli, and chandbali are gold and diamonds. It is not unusual to find an influence of Bengali jewelry designs in traditional Bihari jewelry today.
In the northernmost parts of India, Jammu and Kashmir hold a unique and remarkable jewelry culture. Their distinctive designs and the creative use of precious gemstones with gold set the Kashmiri jewelry apart. The famous Kashmiri earrings known as Deji Hoor are known for their regal design, wherein the earring hangs by a gold chain or silk thread. They also have choker necklaces called Halaqband, a popular bridal choice.
North-eastern India is a treasure trove of unique jewelry designs made with creative use of precious metals gemstones and influenced by the region's natural beauty. Gamkharu is a handmade bracelet made of silver and polished with gold. It has a versatile design that makes it a popular accessory in cross-cultural outfits. Assamese jewelry uses musical instruments, flora, and fauna for design inspiration.
Influenced by Mughal designs and reflective of their royal ancestry, traditional Uttar Pradesh jewelry is known for its grandeur and aristocratic feel. Made of gold, with embellishments and precious stones, this genre of traditional Indian jewelry can be adapted to every ethnicity. Some prominent pieces of jewelry unique to Uttar Pradesh include the Guloband necklaces, paunji (bracelet), nath (nose ring), paasa (like a maang tika but worn to the side).
The rich Maharashtrian culture has influenced traditional Indian attires for generations. The jewelry in Maharashtra is famous for its simplicity and yet, elegant look. The distinctive Marathi gucchedar nath or nose pin shaped like a cashew nut is recognized worldwide. Other noteworthy designs in Maharashtrian jewelry include the Kolhapuri Saaj (necklace), Thushi (necklace), and Bangadi (green glass bangles).
As a multi-cultural country, India has a lot to offer in ethnic clothes and jewelry. The above guide scratches the surface of the diversity of designs available in traditional Indian jewelry. The best part is that traditional Indian jewelry never goes out of style. Choose from the ten kinds of Indian jewelry described above, or do your research to find designs that suit your style and help you elevate your attire with their elegance and uniqueness.
Author Bio:
Niyati Shah is a content specialist with Aurus Jewels, where she helps the digital team in developing unique, engaging, and informative lifestyle content. She covers the latest trends and topics pertaining to fine Indian jewelry, be it modern, traditional, or antique. She also writes on topics that help define and guide women, especially brides. With her experience in design and fashion, along with her passion for jewelry, she offers insightful value to her readers.