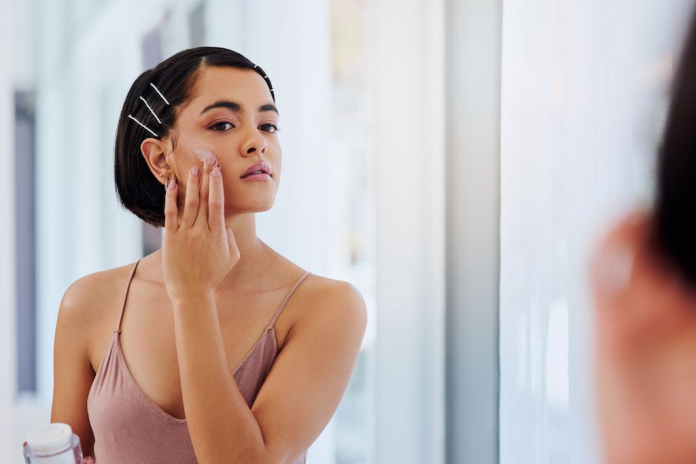 One of the most prevalent skin complaints is oily skin. Acne outbreaks and a greasy complexion are just some of the issues associated with it. Fortunately, it's possible to lessen the severity of oiliness by using the appropriate skincare regimen and cosmetics.
Read this now if you're ready to have that healthy, clear, shine-free glow! This article will guide you on coping with oily skin, getting clear skin, what ingredients to use, and recommended steps to incorporate into your routine.
What is Oily Skin?
Sebum is a waxy substance created by your sebaceous glands. Your body generates sebum to keep your skin hydrated and protect it from harmful radicals. When your skin generates too much sebum, it results in oily skin. The oil can clog your pores and cause blemishes, hyperpigmentation, and breakouts.
Ingredients for Oily Skin
Ingredients to consider if your skin is greasy:
● Squalene replicates the sebum your glands produce, allowing you to maintain your skin's natural oil level.
● Tea tree oil is known for its antifungal, antibacterial, and anti-inflammatory effects. It helps to remove debris and oil from the deep ends of your pores.
● Hyaluronic acid is a staple in maintaining your skin's hydration.
● Retinol—often known as vitamin A—tightens pores and boosts collagen production while preventing excessive sebum production.
Ingredients that might exacerbate oily skin.
● Using coconut oil to moisturize acne-prone skin can clog your pores.
● Sodium lauryl sulfate (SLS) can dry your skin and remove its moisture. Excessive drying of your skin might lead to stronger oil production.
Skin Hydration 101: Skin Care Routine for Oily Skin
There's no hard or fast rule in eliminating oiliness from your pores and achieving great skin, but following a regular skin care regimen is the most effective strategy for preventing greasy pores. Morning and night skincare routines should include cleansing, toning, treating, and moisturizing. Continue reading to find out the best routine for oily skin.
Cleanser
Wash your face every morning and night for a radiant glow. A rule of thumb is to cleanse before sleeping to wash away the radicals and dirt your skin accumulates from the day. Even if your skin seems clean in the morning, your skin might produce dead cells and oils as you sleep. It can trigger pimples and promote inflammation.
Exfoliator
Dirt, oil, and dead skin cells that block your pores may be removed by exfoliating. Particularly, chemical exfoliants are recommended by experts. It peels off dead skin cells using active substances, including beta-hydroxy acid (BHA) and alpha hydroxy acid (AHA).
Don't over do it and limit yourself to exfoliating your skin no more than twice a week. Over-exfoliating may progress to red, dry, or irritated skin. Moreover, exfoliate at night since certain AHA or BHA components might make you more susceptible to sunburn.
Toner
Rose, elderflower, and aloe vera are just some of the natural components in a soothing toner you can use on your face. The product can also help protect your skin from the harmful effects of the sun's rays, making them an excellent complement to your morning skincare regimen. Unclogging pores, balancing the pH level of your face, and creating a layer of uniformly toned skin may all be achieved with toners.
Treatment
Your skin type and its individual needs determine the products you should use in this step. For instance, sulfur or benzoyl peroxide may help reduce oil production and acne outbreaks when used during the day. On the other hand, retinol treatment at night helps keep your pores clean and brighten your complexion.
Moisturizer
Moisturizer for oily skin is vital in your oily skin care routine. A niacinamide-based moisturizer can aid in the regulation of oil production. Similarly, other moisturizers that are oil-free, lightweight, water-based, fragrance-free, and non-comedogenic can help alleviate your acne.
Sunscreen
Sunscreen is life; you might have heard this multiple times because it's true. It prevents wrinkles from developing and keeps your skin moisture balanced. If you're worried about putting heavy products on your face, non-greasy sunscreens for oily skin are available.
Choose a lightweight solution that contains natural ingredients, antioxidants, and UV protection. It should not leave your skin humid, clogged, or sticky all day. If you have oily skin, also seek elements like zinc, vitamin C, fruit extracts, and caffeine in your sunscreen.
The Bottomline
Remember that oily skin is a normal problem that may be caused by various factors, including hormonal fluctuations, heredity, excessive cleansing, certain medicines, or a bad diet. However, oily skin isn't necessarily a problem! Your sebum keeps your skin young by preserving it, and those with acne-prone skin eventually have thicker skin barriers and fewer wrinkles.
Overproduction of sebum may result in glossy skin, uneven texture, big pores, and breakouts. So, use the appropriate products and stick with a consistent skincare routine to control oiliness.
Also Read More: Try out the latest dresses with unique combinations