Life throws you into the pit sometimes and there is no way back. And there are times when you don't get a second chance. But then again it is always our choice, to stay positive or lose hope in life. The one who faces the problem becomes a survivor.
Discussing survivors, recollect the wonderful Resham Khan who conquered a corrosive assault at 21 years old just to turn out more confident and beautiful? The same brave-heart who didn't get disheartened by the malevolent plans of life and rose as a symbol to many, winning the internet with her recuperation pictures?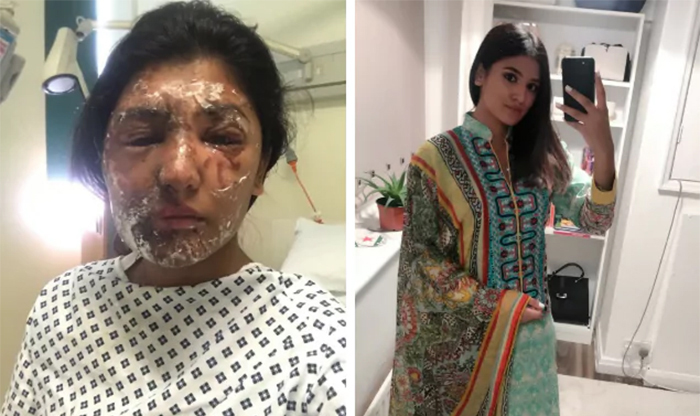 The 22 year lady is looking more gorgeous than before. And this what she tweeted-
Time to stop hiding #NewProfilePic pic.twitter.com/OtscbEJUh8

— Resh (@ReshKhan_) October 28, 2017
"TIME TO STOP HIDING."
Even her Instagram is mind-boggling though she used make-up and highlighter but why not? Every women has access to power of beauty.
1.She is beautiful!
2. Her damn looks!
3. Her cute smile!
She is our hero on social media. People are supporting and loving her for the courage she showed.
1.Same
Not saying it as a formality but you are the most brave girl I've ever come across and you look beautiful @ReshKhan_ ! https://t.co/wredWxtfe1

— Natasha Kundi (@NatashaKLondon) October 28, 2017
2.She is power
#Gorgeous and #Strong. More power to you. Never abandon your dreams, You will get what you want. God is watching over you.

— Asim Farooq (@asimkfarooq) October 28, 2017
3.Too cute!
— food🍕👑 (@itskranx) October 29, 2017
4.Never and ever
GOD!! YOU'RE BEAUTIFUL!!!!!!!!! <3 <3 DONT EVER HIDE

— Brad Cooney (@bradcooney1) October 29, 2017
5.God bless you
Very happy to see your recovery progress!!! Your sheer strength and resiliance to overcome your situation gives hope to others. Keep going❗️

— Mohammed Ali (@mma1981891) October 30, 2017
Way to go Resham, all the love and support to you. She was never ashamed of her scars. She showed them boldly and beautifully always. She also shared her no-makeup pictures on social media. And her recovery pictures are amazing.
Loads of love lady!