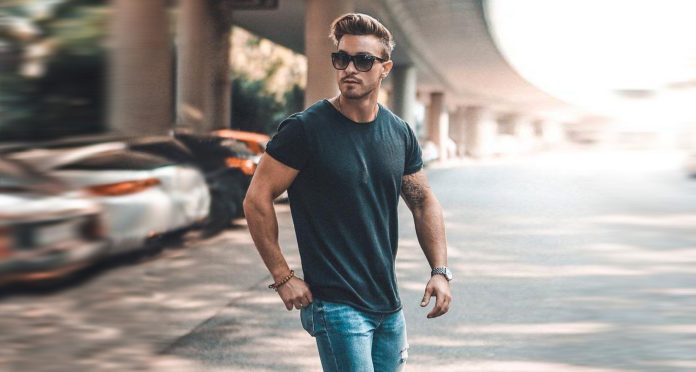 A t-shirt is such a wardrobe staple – it can be worn with anything and everything. But with a piece that is so timeless, giving it a new lease of life can sometimes seem impossible. Styling your tees in new and innovative ways will help you feel and look great in them. Because of course, your t-shirt doesn't work alone. It needs on-point combinations to look polished and neat. After all, no one wants to wear a t-shirt and look sloppy or lazy!
Though t-shirts tend to be deemed casual, that's not an excuse to not bother with styling. The best outfits are the simplest with key details that will catch people's eye. Here are our tips for looking great in t-shirts:
Know your fit
There are different fits that will suit different body types, and we know that we feel our best when we are wearing something that flatters our shape. There are several different male body types:
Rectangle: Same width shoulders and waist
Triangle: Narrower shoulders and larger waist
Trapezoid: Slightly narrower waist compared to your shoulders
Oval: A rounder stomach area
Inverted triangle: Wider shoulders compared to the waist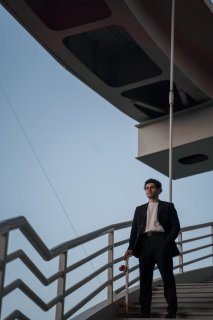 A slimmer fit tee from Fresh Clean Threads is perfect for those who are a trapezoid or inverted triangle shape. It will create more volume towards the bottom, balancing out your figure. The crew neck t-shirts in a wider fit are ideal for people with an oval shape, as they will highlight your shoulders and flatter your stomach area.
It is important to know your body shape to establish what types of t-shirts will suit you. The more flattering your outfit is, the more polished it will appear – even if you've made a minimum effort!
Know your neckline
Necklines are also crucial when it comes to t-shirts. It depends how you are going to wear them – under a blazer, a dress shirt or just on its own with jeans for a James Dean-inspired vibe?
Necklines are one of the distinguishing features of a t-shirt, and how you will style it will determine what you choose.
The crewneck: A round neckline that is perfect for wearing under a dress shirt for when you want to layer up!
The V-neck: A V-neckline is ideal for wearing under buttoned-down dress shirts or on its own on warmer days to avoid feeling stuffy!
The henley: A mix between a t-shirt and a polo-shirt style, this will spice up your t-shirt collection!
 Choose your fabric
Another key to looking great in a t-shirt is choosing the right fabric for your look. Cotton is a classic, and a classic white cotton tee is a must-have for your wardrobe. With a pair of shorts, a pair of jeans or even chinos, it just looks good with everything!
Cupro will have a silky-like effect and will look awesome with silky tailoring for an on-trend look. Linen t-shirts will be ideal in the summer with matching shorts for a cool and laidback outfit, you'll feel at ease all will rocking an awesome outfit.
Choose your colours
As we mentioned, a classic white tee is fool proof, but if you want to change things up, then opt for a pop of colour. And that doesn't necessarily mean loud shades, if you don't dare! Colours can be timeless shades of grey, navy, or neutrals like camel or beige.
Alternatively, you can make a statement with brighter shades such as turquoise, green or electric blue. Steer clear of logo t-shirts for a chic finish. Oversized logos and prints can seem a bit garish and lack style. The best outfits are the simplest – less is more!
Take care of your t-shirts
Make sure your t-shirt is pristine, especially lighter colours which are more accident-prone, and ensure that you put them on the right wash. Don't wash your t-shirts above 30°C to keep the colour looking fresh and the fit on-point. If it has aged or discoloured, know when to let go!
Nothing looks sloppier than an old, faded t-shirt with stains! It's alright for lazy Sundays perhaps but not to go out in!
How you keep your t-shirts will also help them stay in a great condition. Either hang them, though depending on the fabric this can stretch them out at the shoulders (like with merino wool blends, for example), or fold them delicately.
Don't stuff them at the back of your wardrobe! Hold the t-shirt at the sleeves and fold them towards the back of the t-shirt, and then fold the t-shirt in half. And voilà!
Also Read More: The Advantages of Online Fashion Shopping