This is the first community update, and it's gonna be a long one. Hold onto your pants. Yet.The crypto asset class has come a long way. The market capitalization has crossed the $2.5T threshold and we appear to be in the very early stages of widespread institutional adoption. Here we go! Code speaks louder than words! Since the cryptocurrency market is gaining wider adoption, decentralization and network robustness become paramount for large and systemically important institutions to build upon. Stacks has built a theoretically sound and operationally flexible infrastructure to take Bitcoin to the next level.
Earlier today we launched xBTC, Bitcoin on @Stacks 2.0.

Bringing foundational assets to Stacks opens the door to a vibrant defi ecosystem.

xBTC is available on @Okcoin today. pic.twitter.com/Pc2OGyJlae

— mason.eth (@masonic_tweets) December 17, 2021
#1 SIP-012 proposal to upgrade to Stacks 2.05, improvement in I/O operations & assessing storage cost based on actual length
Stacks 2.05 has successfully been activated on Bitcoin block 713,000.
Stacks network upgrade is set to go live at Bitcoin block 713,000 (in 7 days).

SIP-012 had 100% voting support and can improve network capacity by 10x.

Code speaks louder than words 🔥

— muneeb.btc (@muneeb) November 30, 2021
In the past few months, we have seen the Stacks ecosystem boom. Projects like Arkadiko, Stackswap, CityCoins, new NFT collections, and more are leading the charge for Bitcoin-based products and services built via Stacks. Every indication is that this trend will continue, so to make sure the Stacks network can handle the growth, core developers and the community have rallied to introduce Stacks 2.05, a Stacks release that will provide the network a 2x-10x increase in capacity. Situations like the Binance 403 error have been taken care of with the upgrade.

The Stacks 2.0 blockchain artificially constrained block goodput in two consensus-critical ways: it assessed storage costs for lists based on their maximum length instead of actual length, and it constrained the number of indexed I/O operations well below what the reference implementation is capable of handling. Changing either of these is breaking change, which requires a network-wide upgrade.
There was a new SIP proposed executing a breaking change to not only address these two constraints, but also to update all Clarity cost functions to more accurately reflect their true performance. The breaking change is carried out via a network-wide vote by Stackers on the Bitcoin blockchain, which both served to activate this SIP and effectively bypassed the cost voting procedure in SIP-006.
Bitcoin = money layer.
Stacks = programming layer.

The programming layer just did a network upgrade at BTC block 713,000 without any modifications to Bitcoin.

Bitcoin innovates in layers.

SIP-012 is live! 🔥

— muneeb.btc (@muneeb) December 7, 2021
The SIP-012 vote proposal included an upgrade to version 2.05 of Stacks to introduce new cost limits. The activation of Stacks 2.05 took place at a Bitcoin block height of 713,000 (Block height #40607 12-Dec-21).

In a conversation with Xangle, Verify-Inform-Distribute platform: @Muneeb Ali, the founder of Stacks, explained "As SIP-012 is passed, the Stacks capacity will be expanded tenfold."
There are a few backwards-incompatible features the upgrade should ship in 2.1 that will contribute to improve the overall functioning of the Stacks blockchain such as:
Stacking improvements: these features will make stacking more efficient in terms of timing (no reward cycles missed due to cooldown period) and capital employed (users can freely increase their STX from one cycle to another and receive back the STX not used to earn rewards).
Clarity improvements: these features will allow programmers to leverage on an increased range of built-ins, a better parsing and conversion primitives. Furthermore, developers could use the PoX rewards information to build stacking derivatives on top of Stacks.
In-band blockchain upgrades: these features will allow miners and STX holders to vote on "stop dates" when it comes to implement backward-incompatible upgrades (like the current 2.1 one) and vote to extend the PoX mechanism sunset date.
Reliability improvements: these features will contribute to adjust the runtime cost to make more room for smart contracts that use iterations, to manage Bitcoin flash blocks in a better fashion, to improve the sortition weights for miners and to make multisig signing and verification independent of the order in which they arrive.
#2 Muneeb preached Bitcoin & crypto to institutions on Bloomberg Asia
December started with a session from the master, @muneeb taught us why 'Digital assets: An investable asset class for institutions?' at Bloomberg Asia. The session was focussed on the argument for Bitcoin as a digital store of wealth gathering considerable momentum in the past 12 months. He argued whether crypto makes sense in a modern institutional asset manager's portfolio? Curated by Bloomberg APAC Crypto Strategy team: Jamie Coutts CMT & Michael Elko.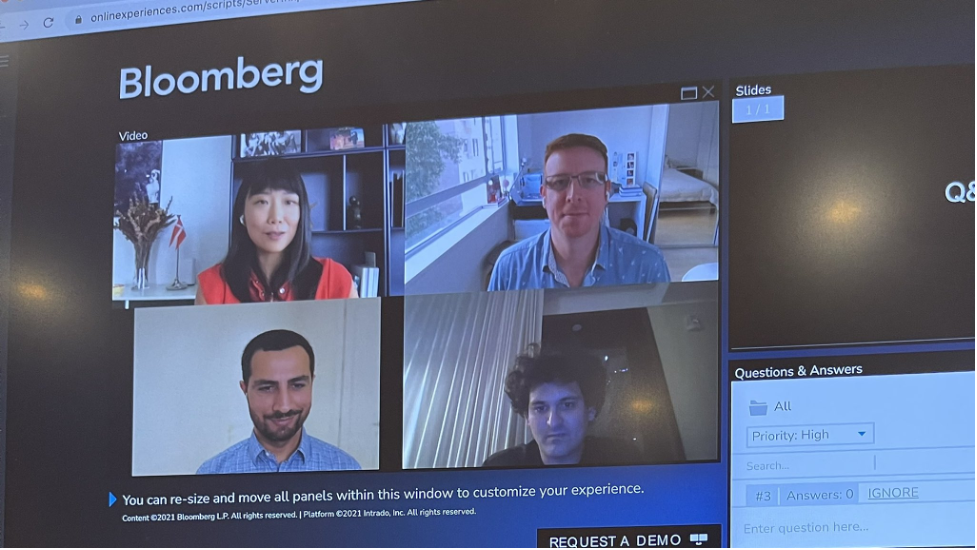 #3 Community poll on "First thought when you encountered Stacks for the first time?"
Just 0.5% of the world's population is in crypto. Tell me how you are late for the party? 👀🎉. We got some interesting responses to the poll:
1. Strong use case built directly on the most reliable blockchain in the world & SEC approved. Strong foundations build strong houses.
2. DeFi on Bitcoin.
3. Bitcoin's Ethereum (without the outrageous fees).
4. Bring in the Bitcoin Yield.
5. Unique ecosystem with unique coin.
Wait, there's more! One the responders questioned: "How has this not already mooned" and then #STX actually mooned!
On Dec 1, 2021 Coindesk published: "Stacks Network's STX Token Jumps 50% as Bitcoin Struggles Amid Seesawing Fed Rate-Hike Bets"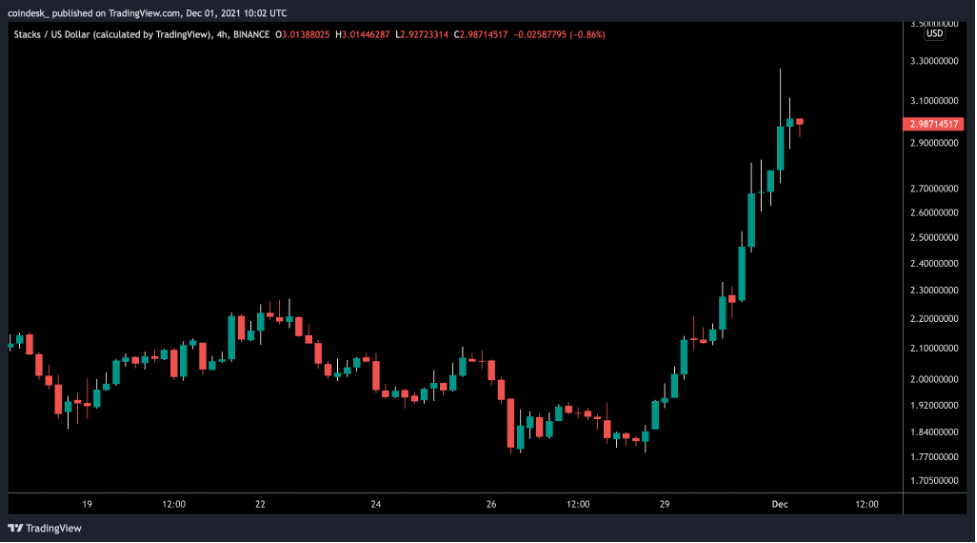 # 4 Arkadiko Shades NFT: burn NFTs to obtain physical items!
Arkadiko Protocol, DeFi on #Bitcoin, completed the trifecta of Uniswap Socks , MangoMarkets Caps and Arkadiko Shades by the release of the Arkadiko Shades, a physical item which can only be obtained by burning the Arkadiko Shades NFT!
Users are able to mint the Arkadiko Shades NFT by burning DIKO according to a bonding curve. They need $DIKO, the governance token of Arkadiko and end this to the minting smart contract. The smart contract automatically (trustlessly) burns the received $DIKO, reducing DIKO's overall supply.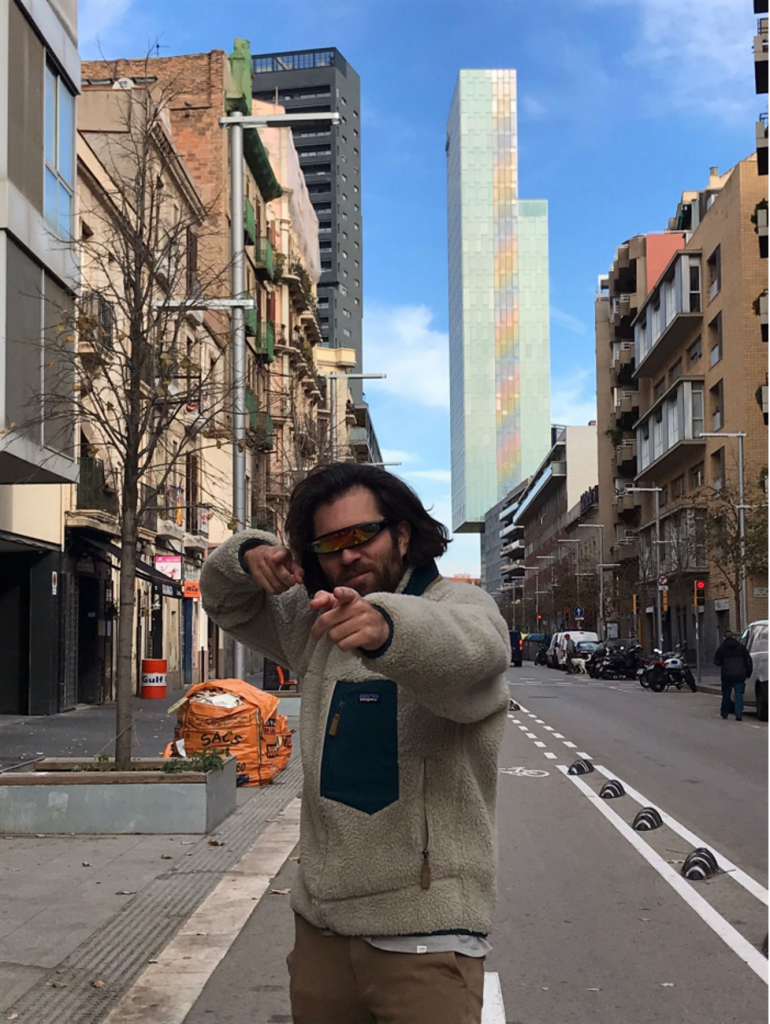 Minting price increases as per bonding curve
Each new NFT minted progresses the bonding curve, which means the next mint becomes more expensive. A total supply of 500 Shades NFTs are available.
The bonding curve follows price = (X²) / 4 where X = the numbers of NFTs minted.
You'll want to be quick to snag your Shades NFT at the lowest price point possible. Hopefully your transaction goes through quickly but it might be a bit of a free for all. So be it.
After obtaining the NFT, users have the option to keep the NFT in their wallet or to burn the NFT and redeem the actual physical Shades object. There is no cause for worry! Users will receive a special NFT as a replacement to remember the burning moment! Users receive the physical item at a postal address of their choice. Shipping is happening worldwide!
Users can keep the NFT and trade it on Stacks NFT Marketplaces.
Arkadiko Finance is one of the first projects to implement DeFi on #Bitcoin: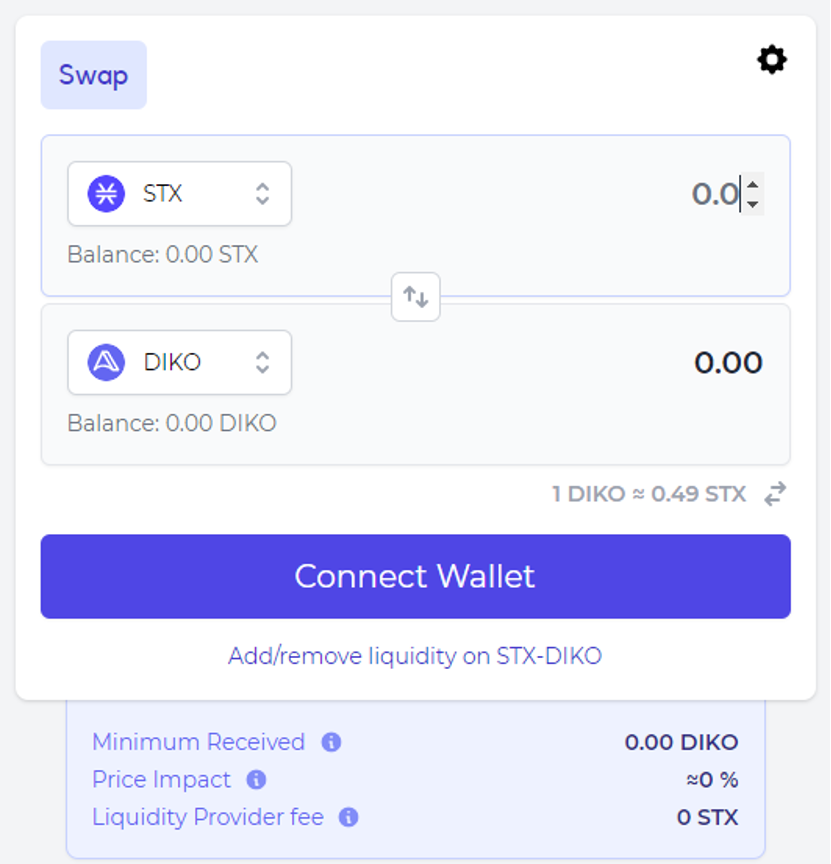 Arkadiko Shades is part of history as a unique piece of meme culture at the time of birth of the Stacks DeFi Ecosystem.
#5 D'CENT Wallet now supports Stacks-based native tokens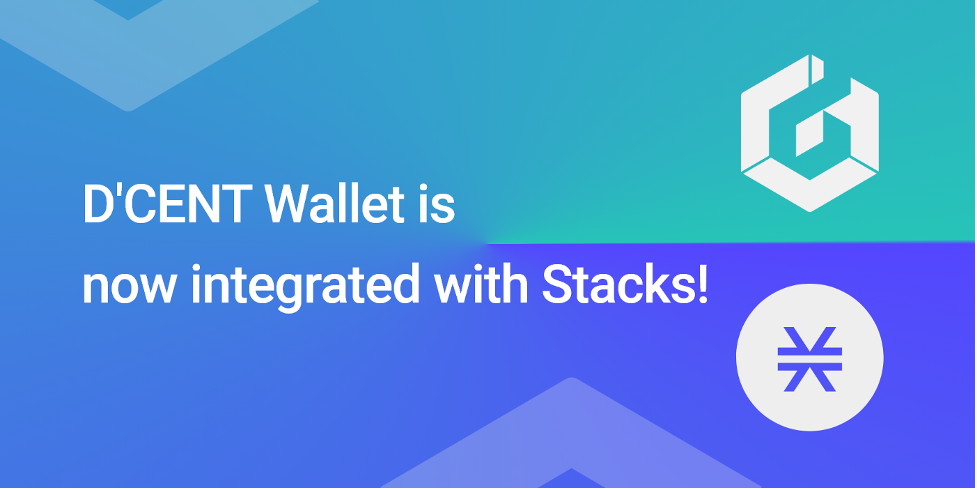 The growth of the Stacks has been astounding the past few months and it's no question that it unleashes Bitcoin's potential with all of the development (DeFi, NFTs, DAOs, and DIDs) happening in its ecosystem.
Now, users can add Stacks-based native tokens which are marked with "Stacks-SIP010". In the beginning, D'CENT Wallet will officially list several types of Stacks-based token assets from decentralized finance platforms such as; Arkadiko Finance, ALEX Protocol, and Stackswap and will continue to do so over time.

How to manage Stacks (STX) on D'CENT Wallet
Update Mobile App (v5.7.0 or higher)

The latest versions of the D'CENT mobile app can be found at the link below.
#6 It's Time to Stack(s) Bitcoin Up! Messari published an overview on Stacks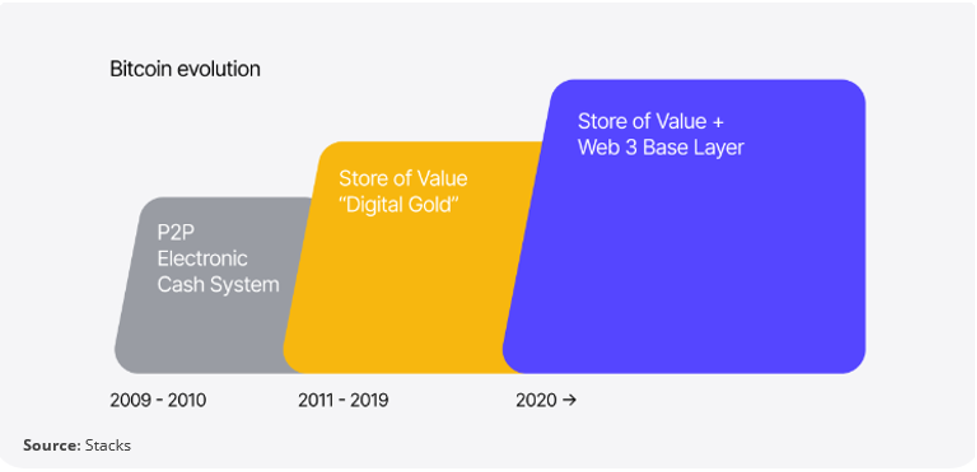 The evolution of Stacks began in 2013. The project was created by the founders Muneeb Ali and Ryan Shea. Stacks is the product of Muneeb's doctoral thesis, which detailed a framework for an internet that could be built around the Bitcoin blockchain. This framework was called Blockstack. The initial research and development has been made possible thanks to the participation in the Y Combinator batch in 2014. Muneeb Ali and Ryan Shea have raised funds in the early stage from Union Square Ventures, Naval Ravikant, SV Angel, Winklevoss Capital and others.
The project raised $47M in a token offering for the Stacks cryptocurrency in 2017, and an additional $23M through the first-ever SEC-qualified US Reg A offering and concurrent Reg S offering in 2019. More than 4,500 Stacks holders participated in these offerings, including USV, Lux, DCG, Winklevoss Capital, Blockchain Capital, Foundation Capital, Hashkey, Fenbushi, and others. In 2020, Blockstacks rebranded to Stacks and launched Stacks 2.0 mainnet in January 2021 with Clarity smart contract compatibility.

The Stacks cryptocurrency has 1.32 billion STX in the genesis block. The distribution has been rolled out through an initial coin offering in 2017 where Stacks raised approximately $ 47 million and investors purchased STX at $ 0.12. In 2019, two SEC-regulated coin offerings occurred: the Reg S offering raised $ 7.6 million with a STX price of $ 0.25 whereas the Reg A+ offering raised $ 15.5 million with a STX price of $ 0.3.

Stacks addresses the main difficulties of building on top of Bitcoin
There are two fundamental challenges to building apps and smart contracts on Bitcoin:
Scalability: Bitcoin blockchain has a limited capacity for transactions.
Secure contracts: to preserve the security of the Bitcoin blockchain, the smart contract scripting language is quite limited.
Stacks has developed a solution for both issues.

Stacks has designed a mechanism that allows its blockchain to make good use of the time between two blocks produced on Bitcoin by means of intermediate smaller blocks called microblocks. These blocks can leverage a much faster confirmation speed, and by the time Bitcoin has confirmed a block, the microblocks can settle from Stacks to Bitcoin and provide finality. Microblocks, therefore, provide a speed improvement while utilizing the security of the Bitcoin network.

The Stacks blockchain provides support for smart contracts using the Clarity programming language. Clarity differentiates itself from the most common smart contract languages for two main reasons:
Decidable language: Clarity coding language is decidable (Turing incomplete). This makes it more secure and developers are facilitated in seeing what the code will do before running it.
Interpreted code: this property allows non-technical users who can't audit smart contract code to see in the UI exactly what's going to happen to their balances before running the smart contract.
All Stacks transactions settle on Bitcoin. This enables Stacks transactions to benefit from Bitcoin's security. Stacks has chosen a more energy-friendly mechanism that employs bitcoin as "digital energy" to be spent by Stacks miners in place of electricity. This mechanism is called Proof-of-Transfer (PoX) and it allows any Proof-of-Work chain, such as Bitcoin, to be leveraged and extended.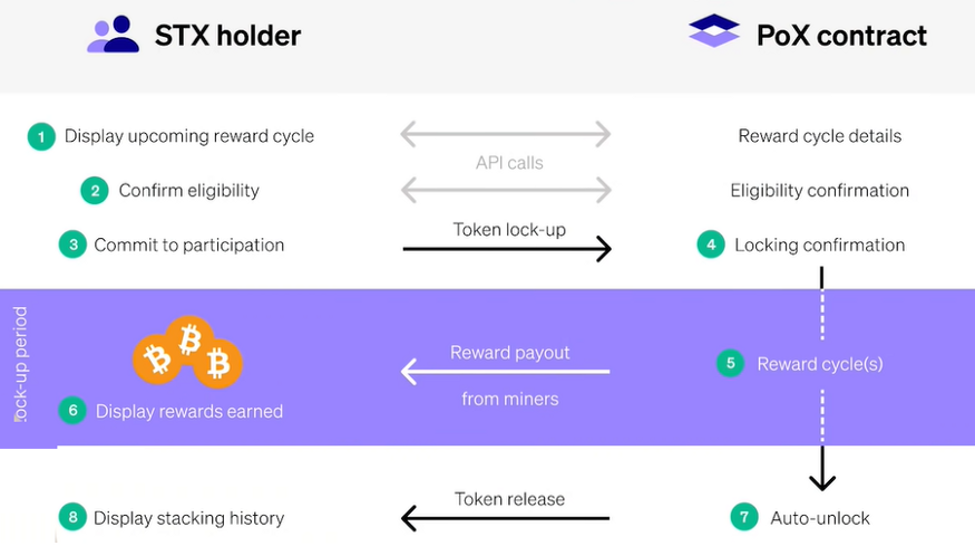 Currently there are more than 436 million STX (more than $1.1 billions) locked in stacking, more than 30% of the STX circulating supply. The average stacking APR is in the 8-10% range.

The Stacks ecosystem is experiencing a solid organic growth mainly driven by the following sectors:
CityCoins – CityCoins has created an innovative protocol that allows communities to contribute to their cities' financial resources by forwarding STX in exchange for rewards.
DeFi – The first DeFi platform that went live on the Stacks blockchain was Arkadiko. This project aims at issuing a stablecoin called USDA through self-repaying loans. Arkadiko has already reached $60 million in total value locked.
NFTs – The Stacks ecosystem hosts some very popular collections.

Furthermore, the Stacks team is currently working to enhance the interoperability with different blockchains through the following bridges:

Stacks Bridge – cross-chain transfer service that allows owners of ETH or STX based NFTs to move their NFTs between blockchains.
Banana Bridge – this bridge would allow Megaponts transferability from Ethereum to Stacks and vice versa. Bitcoin NFTs could then access metaverse projects very soon.
Orbit Chain – the Orbit Chain, which has recently partnered with Gala Games to expand into the gaming industry, is currently bridging Stacks. In the past year, more than $ 10 billion worth of assets have been bridged across the likes of Ethereum, BSC, Polygon, Klaytn, ICON, and Ripple.
Read more here: https://messari.io/
#7 Introducing the OnStacks Platform: Let There Be Data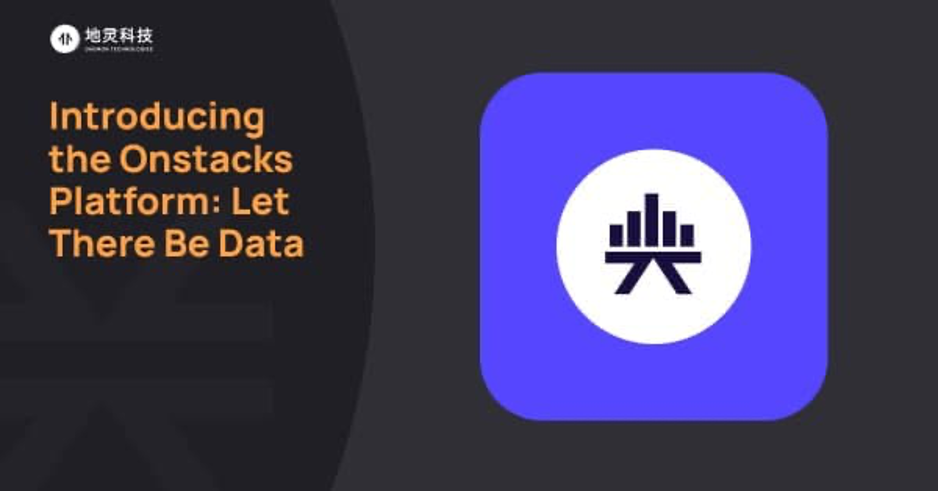 Daemon Technologies introduced the OnStacks Platform: an on-chain analytic platform for the Stacks ecosystem that allows users to explore everything that is happening on Stacks including transactions, mining, protocols and NFTs.

The OnStacks platform serves two purposes:

The initial purpose is to provide a hub of all onchain data relevant to the Stacks ecosystem for the community. This will provide a holistic view of the activity happening across and within specific verticals on the Stacks network.
Going forward, the bigger purpose of OnStacks is the backend. In order to service the user-facing data modules, it is creating backend infrastructure that includes a Stacks node cluster and various APIs. It's this backend that its plan to offer as a service to projects building on top of Stacks, and anyone else that needs to leverage different kinds of onchain Stacks data on an ongoing basis.

Read more here: https://daemontechnologies.co/
Check the explorer: https://onstacks.com/explorer
#8 First Bitcoin Metaverse Game on Stacks, Moonray, Raises $3.5M
Moonray is a surreal, 3rd-person, action-RPG coming in 2022. It raised a $3.5 million seed round led by Animoca Brands to continue developing the NFT-centric action game, which will eventually open up into a shared metaverse experience. Moonray is the game, and the stylish PC action role-playing game will roll out early access to select players in March 2022.
We're bringing #NFTs tradeable economy to an AAA Action RPG set in a far-future, surreal sci-fi world.

This is not a cinematic trailer, it's real gameplay live in Unreal Engine today! EA Q1 22

NFTs dropping soon & generate DeFi yield in #Bitcoin!

👇👇👇👇 pic.twitter.com/fMcUUpRsdh

— Moonray.btc (@moonraygame) September 16, 2021
Read more: https://decrypt.co/
Check the game: https://moonray.game
Discord: https://discord.gg/moonray
#9 Korbit – Korea's first cryptocurrency exchange lists STX on KRW market.
Korbit is a South Korean company which is heavily vested in the cryptocurrency market. The brand is owned and operated by Korbit Inc, a company located in Gangnam-gu, Seoul, South Korea. The brand commenced operations in 2014 after securing huge financing from several venture capitalists. Korbit performs the following cryptocurrency-related services:
Cryptocurrency trading for the local South Korean market.
Fiat to cryptocurrency exchange services using the South Korean Won (KRW) as the fiat currency of choice.

Korbit announced the listing of STX on the KRW market.

Exchange Announcement: https://exchange.korbit.co.kr/
#10 Stacks is hosting a virtual "Stackie Awards" to put a spotlight on all the incredible contributions from the Stacks community!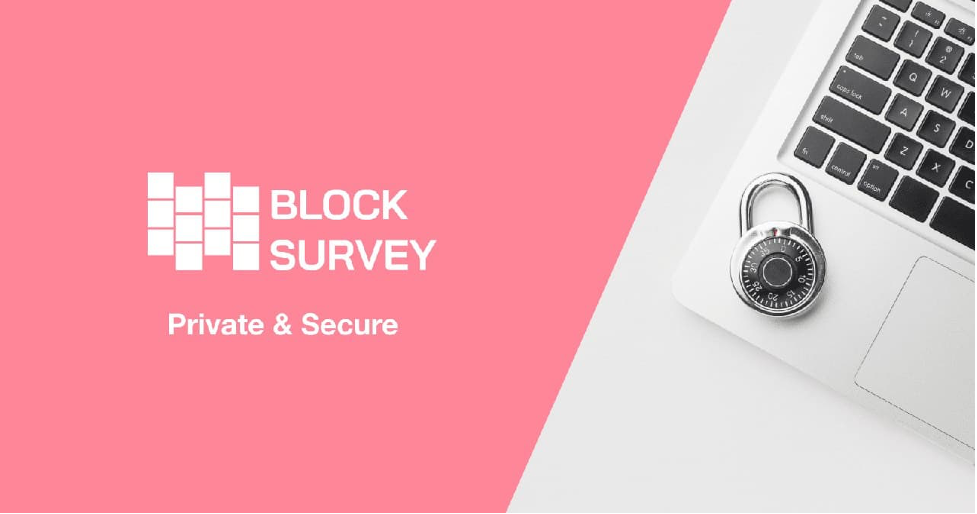 Help us recognize your fellow community members by nominating them for a Stackie Trophy: https://shrl.ink/mZoG
#11 Wrapped Bitcoin is coming to $STX
Wrapped Bitcoin on Stacks is a huge step toward native DeFi on Bitcoin! xBTC, wrapped $BTC on Stacks blockchain will be listed on OKCoin.
xBTC is the first asset that is secured by Bitcoin itself. Every xBTC token creation and transfer on Stacks 2.0 is secured by the Bitcoin blockchain. To change the history of asset definition or transfer, an attacker would need to attack Bitcoin itself.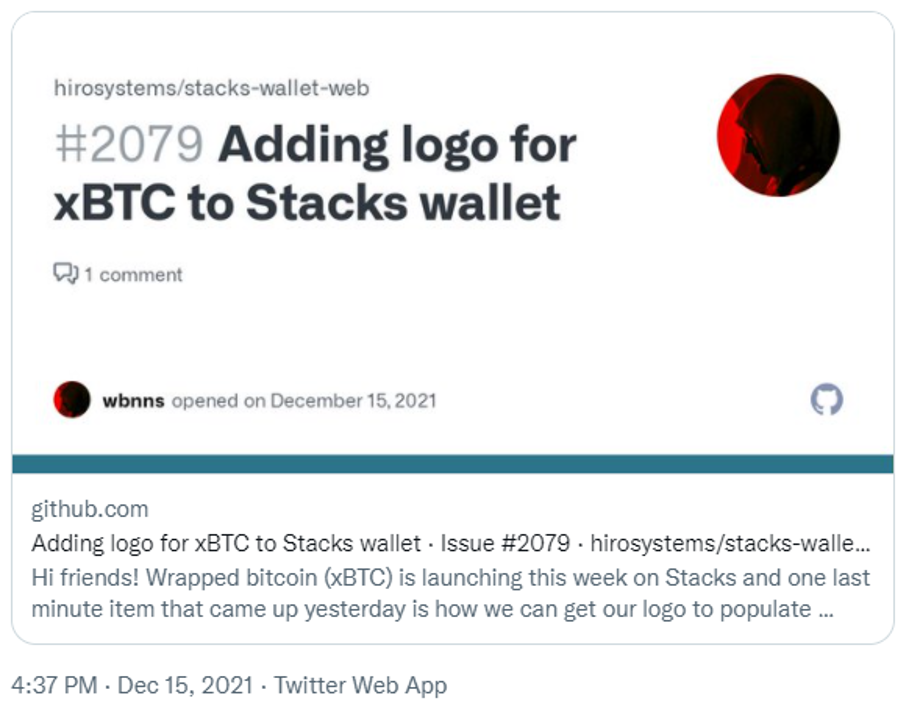 xBTC contract: SP3DX3H4FEYZJZ586MFBS25ZW3HZDMEW92260R2PR.Wrapped-Bitcoin
Learn more about xBTC: https://blog.stacks.co/xbtc
#12 Introducing the Stacks Residence Program!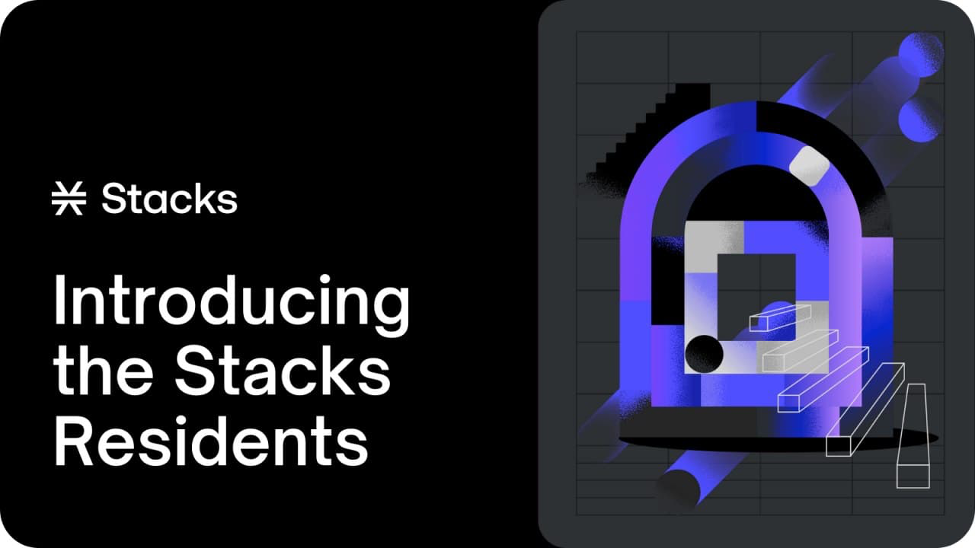 The notion of scaling in layers around Bitcoin applies to more than just the Stacks blockchain. The strength, skill, and diversity of the ecosystem are the most important factors in Stacks' long-term success. The Stacks Residence Program recognizes this critical truth to create more opportunity for experts and leaders to explore and build out key aspects of the Stacks Ecosystem.
The vision for the highly autonomous residents is to incubate key ideas, lead critical research, and kickstart or create new organizations, resources, and tools. Areas of focus among the first-ever Stacks Residents include governance, DAOs, token community management, Proof-of-Transfer, NFTs, and Stacking.
Read more: https://stacks.org/introducing-stacks-residents
View Open Roles: https://github.com/stacksgov/residence-program/issues/14
#13 $DIKO, governance token of Arkadiko Finance will be listed on OKCoin
Arkadiko is an open source and non-custodial liquidity protocol for minting stablecoins, earning interest on deposits and borrowing assets on Stacks. $DIKO tokens give their holders governance rights & a say in the platform's future! $DIKO will be listed on OKCoin.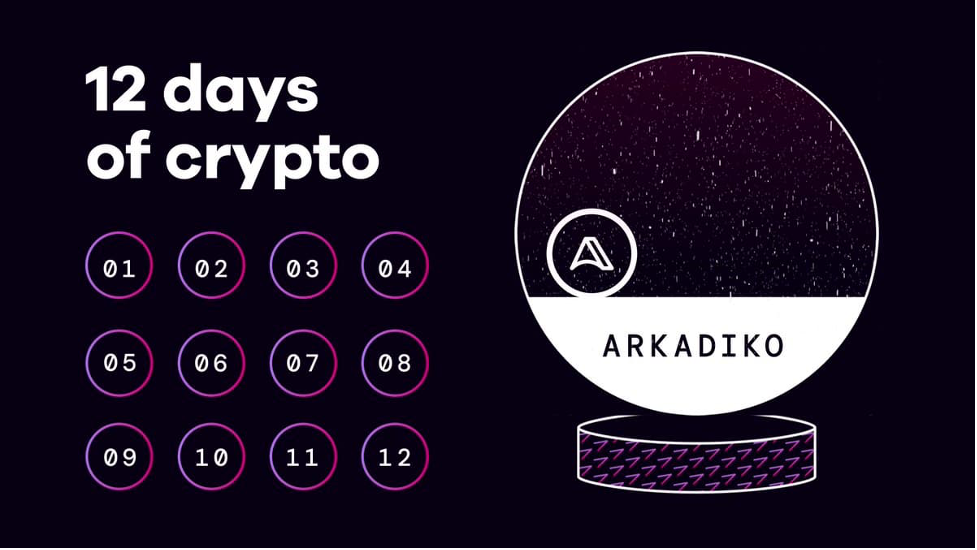 Arkadiko Website: arkadiko.finance
#14 Checkout the latest NFT launches on #STX

#15 Stacks India conducted Community Hangout #1
Stacks India conducted their first community hangout in Twitter Spaces on 18th Dec'21. The format of the event was:

Introductions (10 min)
Creator Talk (30 min)
Q&A, Networking, Open Forum (20 min)

Thank you everyone for taking time out to attend today's hangout🤝. Let's have more discussions like these & ship more smart contracts for #Bitcoin from 🇮🇳.
Re: Special Purpose 🎁NFTs for all attendees, pls share your @Stacks address in replies below latest by 21-Dec-21 23:59 IST https://t.co/p9HGszJrvS

— stacksindia.btc (@StacksIndia) December 18, 2021
The event was targeted at increasing tech participation from India.
Attendees will receive special edition NFTs as a token of participation & gratitude.
Wait, there's more! Don't you want to grab a Christmas gift?
#16 The #StacksHolidayDrop started from 20-Dec
Starting on Monday the 20th, and ending on New Years Eve, come join the Stacks community on Byzantion each day to enter for a chance to win a Bitcoin NFT. Each day there will be a new NFT you can win, all you have to do is open the square corresponding to the day! It's a 12 Day event, with 100+ NFT & 20k STX as rewards. On the first day of the Bitcoin NFT giveaway event, 2 lucky people won a Bitcoin Monkey and there is a bonus 25k Boombox giveaway as well.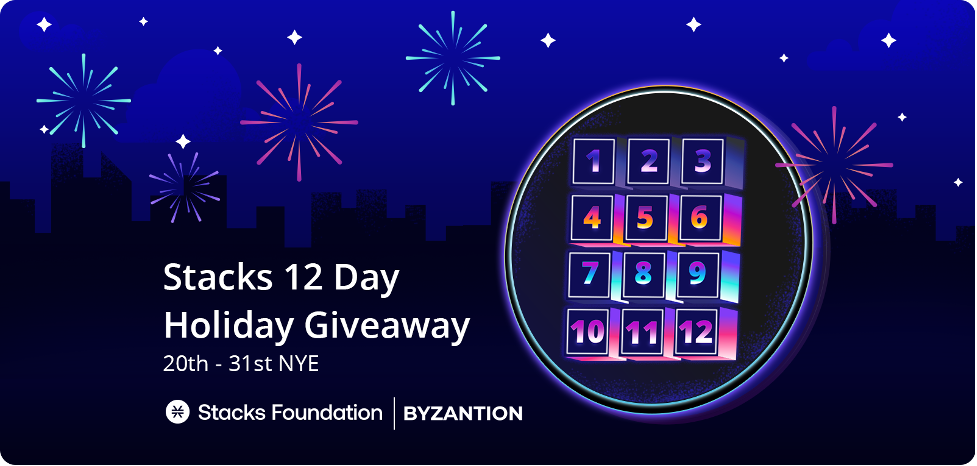 We're so proud of what the Stacks community has done to bring about Bitcoin and we hope you'll celebrate these great projects with us and the entire Stacks fam.
How to Enter:
Make sure to have the Hiro Web Wallet Installed and Setup
Have at least 1 STX in your wallet to enter.
Visit https://byzantion.xyz/StacksHolidayDrop page.
Click the "Enter Today's Giveaway" Button starting on the 20th.
Choose the Stacks account you'd like to enter the giveaway within the Hiro wallet popup
That's it you'll be entered for the giveaway
Swag Bonus:
Just in case you don't win an NFT, you also have a shot at some sweet Stacks swag. Just tweet about the #BTCNFTGiveaway for a chance to win a Stacks Merch Pack each day.
The Stacks Pack includes:
A Stacks Backpack
A Stacks Baseball Cap
A Stacks Socks
Read more: https://stx.is/stacks-holiday
In the next update we shall discuss the NFT story. We are fast approaching Stacks 2.0 anniversary, wear your seatbelts exciting times ahead. Wish you all a Merry Xmas!
About StacksScan
StacksScan provides ecosystem updates of Stacks, a global community working together to build a user owned internet. #STX enables DeFi, NFTs, & Web3 on #Bitcoin. Authors: Saurabh

Read more about StacksScan here:

Bumppy | Twitter | Telegram | Medium | Reddit | Sigle

About Stacks
Stacks 2.0 is a layer-1 blockchain that connects to Bitcoin for security and enables decentralized apps and predictable smart contracts. Stacks 2.0 implements PoX mining that anchors to Bitcoin security. The platform is powered by the Stacks coin (STX), which is used for fueling the execution of smart contracts, processing transactions, and registering new digital assets on the Stacks 2.0 blockchain.

Read more about Stacks here:

Stacks.org | Stacks.co | Twitter | Telegram Chat | Telegram ANN