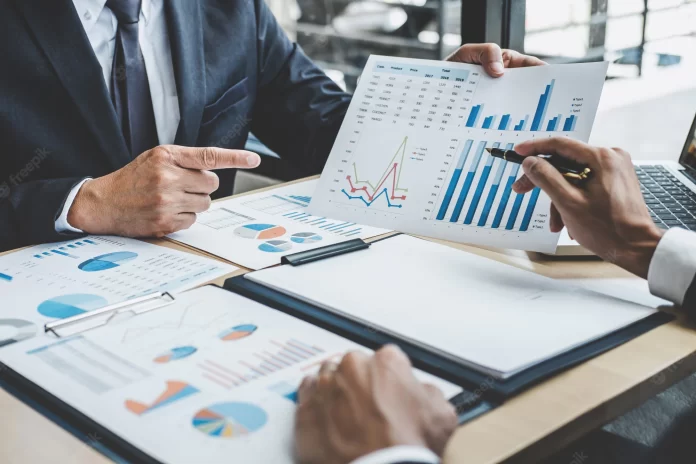 Data has become essential in today's ever-changing corporate climate. Almost every company, regardless of size, is looking for individuals that can analyse raw data and derive significant insights.
Are you wondering why data analytics has become a requirement for businesses all around the world? It is mostly due to the advantages it provides. Business analytics is a field that has altered practically every industry, from manufacturing and marketing to finance and human resource management.
Continue reading to learn about the most popular applications of business analytics and the skills to acquire it in the article below.
Understanding Business Analytics
Business analytics is defined as the use of a set of software programs to create statistical models that assist leaders in looking at data on past business performance, understanding the current position, and predicting future scenarios.
The emphasis on future outcomes distinguishes business analytics from other disciplines such as business intelligence. Business intelligence stresses the what and how so that firms may keep what works and modify what doesn't. Business analytics, on the other hand, focuses on why things happen to make educated, data-driven predictions.
Business intelligence may assist a company in deciding whether to manufacture more of a specific product to keep up with increased sales, whereas business analytics may investigate the factors that led to increased sales to drive additional sales of that product or generate ideas for increasing sales of other products.
Business Analytics uses and Applications
1. Retail Business Analytics
When it comes to online shopping or providing an exceptional in-store experience, analytics is employed by specialists without any restrictions on exploiting client information to develop relevant adverts. The primary focus is on targeting customers using data to improve sales, which is not uncommon.
2. Banking Business Analytics
Customers used to avoid going to banks because of the huge lines, time-consuming processes, and bad customer service. However, using analytics, a few banks have begun to improve their services to improve the entire experience.
3. Food and Beverage Industry Business Analytics
Restaurants are struggling to retain consumers due to the sudden increase in online delivery and the availability of many options. However, some fast-food restaurants have been able to improve the digital customer experience without significantly impacting sales.
4. Transportation Business Analytics
When it comes to data in transportation, it isn't just about monitoring traffic patterns and finding the shortest route. Transportation services are now leveraging data to improve their services.
5. Human Resource Management and Business Analytics
The major trend in HRM is datafication, which involves using the power of data to transform a variety of HR procedures. Technological advancements have enabled HR departments to acquire and analyse raw data in ways that were not before conceivable.
6. Business Analytics in Entertainment
With internet consumption higher than ever before, entertainment companies are devising new ways to engage their audiences and build a larger consumer base. The entertainment business is ready to go all in, from developing platform Originals to selecting shows and movies with more than just popular appeal.
7. Business Analytics in E-commerce
Have you ever talked about a product with someone and then seen the same recommendation in an app? This may sound strange, but it is how e-commerce titans utilise predictive and behavioural analytics to better understand their customers.
8. Education and Business Analytics
Universities have recently begun to use data analytics to collect and update student data profiles utilising numerous data sources. This covers financial data, academic performance, demography, and other information.
Top Business Analyst Skills and Knowledge
A business analyst should be able to work with data sets that are becoming increasingly large and sophisticated. This necessitates the following two abilities: Understanding major data analysis programming languages such as Python, R, and Julia, as well as using standard data visualisation software such as Tableau, SBSS, or SAP Business Objects can be covered in various courses in analytics.
It's also beneficial to be familiar with the data sets most relevant to your industry, claims data for insurance, material costs for building, and so on. Because business analysts have a general awareness of the complexities of these data sets, they can get a jump start on statistical analysis and interpretation.
For professionals interested in business analytics, a background in statistics, engineering, or computer science is advantageous. However, because coding and constructing data models are frequently the duty of the data analyst, a business analyst must have good management, communication, and leadership abilities in a corporate context.
Several critical soft skills for someone in a business analytics profession include effective communication, meeting leadership, active listening, time management, stakeholder management, and the creation of visual models. Collaboration throughout the firm and making use of all accessible data are two more key talents for a business analyst. You can inculcate these skills by enrolling in any business analytics online course and preparing yourself.
Conclusion:
We hope you now have a better idea of how this field is affecting industries around the world and what you need to succeed in it. With technology advancing at a tremendous speed, business analytics will only grow in scope and bring opportunities that do not exist today.
Also Read More: Mail server on VPS: The best programs