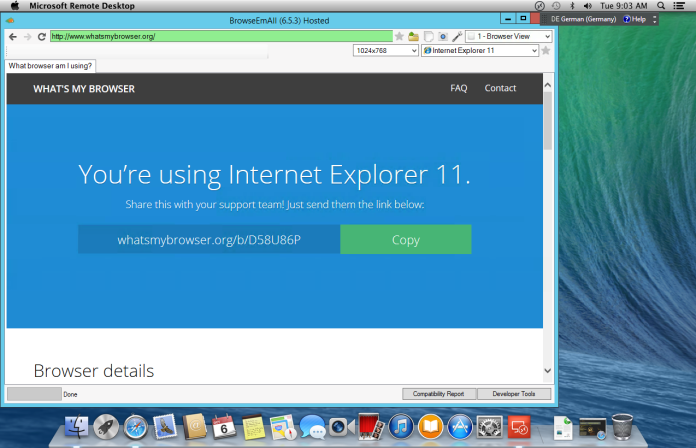 Internet browsers are one of the most important factors that every user must have a proper idea about. For instance, the choice of browser will define the website that you can access and the special privileges available to you. From a website development point of view, it is more critical as it can control your target audience. In the modern industry, the availability of so many options had improved the diversity of users and their choices. Therefore, it has become almost impossible for developers to neglect any audience base. Internet Explorer is one such Legacy browser that developers just can't ignore. So, in this article, we'll focus on how to run Internet Explorer on Mac systems.
We will also discuss the importance of internet explorer from a developer's point of view. Moreover, we will try to focus on certain advantages of using internet explorer.
Is it Possible to Install Internet Explorer on Mac
Although the official version of Windows now comes with Microsoft Edge, some people still prefer the good old feeling of Internet Explorer. There is a certain charm in the simplicity of this browser that is almost impossible to overlook. If you check the Mac history, we will find that Mac hasn't released an update for Internet Explorer since Mac 5.2.3. This version was released in 2005. This means internet explorer is no longer supported in the latest version of the Mac Operating System. So, if you want to directly install Internet Explorer you have to downgrade to the older version of Mac OS. We strongly recommend the readers not to do so as it is highly risky to run these outdated operating systems with an insecure database.
So, let us take a look at some of the easiest ways that developers can use to run Internet Explorer on the Mac Operating System.
Tricking the Website to believe that you are Running Internet Explorer
One of the lesser-known facts is that many websites haven't been updated for a long time. This means that they are still accessible only on Internet Explorer. For such websites, developers can easily trick the host server into believing that you are running Internet Explorer. In this process, you have to change the user agent for the browser. We can define the user agent as a string of text that provides all the information regarding your browser and operating system. So, by updating this data, you will be able to pass false information that you are running Internet Explorer instead of Safari or chrome. The users must remember that this trick works most of the time although it is not safe in terms of data privacy.
Implementing Microsoft Edge
Most of the time, the users want to install Internet Explorer on Mac to have a unified experience across Windows and Mac platforms. This is a common practice because the Mac platform can be quite confusing for first-time users. So, if your only goal is to have a unified experience then we recommend the use of Microsoft edge. This is because Microsoft edge is officially supported by the latest version of Mac and provides a similar yet better experience than Internet Explorer. One of the most obvious benefits of Microsoft edge is that it helps you to synchronize your life across all the systems.
In some cases, people are forced to work on Mac OS in the offices and have to go back home to the old Windows system. This discrepancy in operating systems can lead to unnecessary problems and headaches. For these people, we would recommend the following steps to perfectly implement Internet Explorer on even the Mac system.
Using Virtual Machines to Run Internet Explorer on Mac
Using certain specific apps, the developers can run virtual machines within them. These virtual machines can help creators to initiate a specific environment for running Internet Explorer even on a Mac system. Since this is a lengthy method, we recommend the users implement them only if the user agent is inaccessible. The developers can use various virtual machines and Boot Camp to achieve this goal. However, the fastest method is to use software known as WineBottler. Now, let us learn more about the two common methods namely WineBottler and Virtual Box.
WineBottler
Winebottler is similar to Wine for Linux. This software helps the developers to simulate multiple Windows-based applications on a Mac Operating System. This process saves the hassle of putting multiple operating systems on a system or purchasing an expensive Windows license. The developers can download this software from the developer's website. The installation process is similar to any other software. Using this powerful software, the developers can force the system to read multiple prefixes. It will install the software as per the requirement of the user. Therefore, the usability of the software is very simple. Another major advantage of this software is Windows Explorer is an out-of-the-box offering. This means you will have the option to download this browser when you first install WineBottler. It will offer the latest functional version of Internet Explorer which is Internet Explorer 8.
Virtual Box
Virtualbox is developed by Oracle. Using these software developers can run almost all operating systems in a virtual environment on Mac OS. The first step is to download the virtual box and its extension pack. The developers have to install the software DMG pack. Developers have to initiate the virtual manager for the first time and immediately close it. Using this process, you will allow the system to log some important information. Finally, the developers have to open the terminal window of Mac and paste the Internet Explorer command that they are intending to run. An important tip is that people using older Mac versions must choose Internet Explorer versions that are compatible with Windows XP. These were the steps for the installation of Internet Explorer using a virtual machine on a Mac. The system might ask you to download some updates if necessary.
Reasons to Run Internet Explorer on Mac
The developers need to understand the various reasons that might require the installation of Internet Explorer on Mac. Various websites are developed with Internet Explorer as a priority. These websites are mostly developed before 2010 and haven't been updated since. We are mentioning 2010 because this is the year when Chrome started to see a meteoric rise in its user base. So, there is a high probability that Internet Explorer will render these websites better than all the other browsers. As we all know, Internet Explorer uses ActiveX Technology. This technology is often the first preference for developing business websites that uses HTML IT. Moreover, this technology also plays a vital role in maintaining the simplicity of web applications.
However, since Internet Explorer has been discontinued by Microsoft, we recommend that users do not try and use it as their daily driver. Many security issues are related to using software's that are no longer supported by manufacturers. They stop receiving frequent security updates which are essential for maintaining the integrity of an application.
The Use of Cloud Platforms
Cloud platforms are one of the easiest and most advanced solutions to implement different operating systems and Browsers on a computer. In the modern Software Development Industry, there are various search tools and platforms available. Certain platforms like Lambda Test help developers to initiate multiple instances at the same time. This process also helps to save a lot of time during the application development life cycle. Developers need to choose the right tool or platform according to their requirements. One of the easiest ways to shortlist is by penning down the requirements that the software must have. These requirements vary from developer to developer and their knowledge. For instance, certain developers might consider it necessary that you must support multiple programming languages while others want it to be affordable.
Let us use the example of Lambda Test to improve our understanding of this concept:
For beginners, Lambda Test is a platform that the developers use to ensure that the website is cross-browser compatible. This test mostly ensures that the web application retains its peak usability, performance and functionality irrespective of the device, operating system or browser. Using this platform, developers can perform all the test cases on an online cloud grid. These cloud grids are very accessible and eliminate the hassle of maintaining a physical device testing lab.
Lambda Test allows developers and testers to perform end to end testing of web applications on more than 3000 different browsers. This process eliminates any form of limitation on the developers and allows them to create a perfectly functional application. Using Lambda Test the developers can also implement parallel testing on the web applications.
Parallel testing is a wonderful process to initiate multiple instances at the same time. Experts believe that by using parallel testing the developers can complete all the test cases in under two days. Lambda Test also helps the developers to ensure that the local web applications are also working flawlessly.
It generates highly dependable results that the developers can use to perform the debugging processes. Lambda Test achieves this goal by combining the test results from virtual machines, emulators, simulators and even real devices. The official website of Lambda Test consists of many documentations and tutorials to help new developers.
The Final Verdict
So, we can conclude with a little bit of knowledge and some Technology, developers can easily run Internet Explorer on the Mac Operating System. From a user's point of view, it wouldn't be a feasible decision to do so. However, from a developer's point of view, it is rather an important step that can help the company to ensure that their application provides the best user satisfaction. In this competitive application Development Industry, developers must remember that the primary goal is to quickly deliver high-quality applications to the end users. Providing proper support even on the Legacy browsers is one step toward this goal. The application development companies should also spread proper awareness regarding the step. It is a good idea for companies to conduct frequent developer seminars for enlightening on the importance of multi-browser support.
Also Read More: 14 Brilliant Pictures On Social Media Show How Modern Technology Has Affected Our Lives