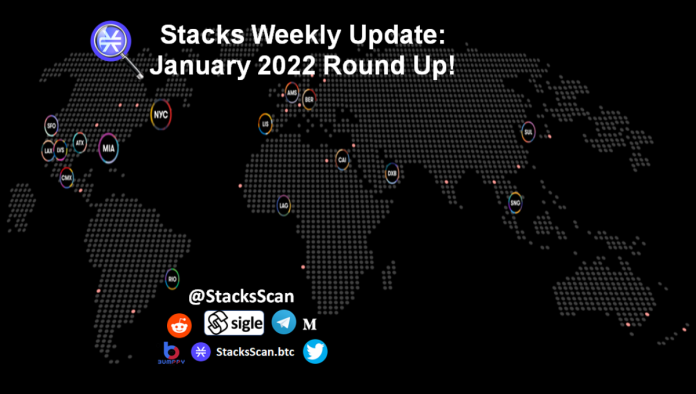 Since its inception, Bitcoin has grown and evolved tremendously, along with the rest of the crypto industry. 14th January marked the first anniversary of Stack 2.0 mainnet. Top 10 moments of 2021 include launch of Stacks Accelerator to fuel startups building on Stacks, DeFi on Bitcoin via Arkadiko, Alex; Bitcoin NFT Marketplaces, Bitcoin NFT Explosion, CityCoins, Stacks Event Takeover, Stacks Residents & Stacks Chapters. To celebrate the anniversary Stacks partnered with Megapont NFT, Project Indigo & Byzantion to release a 10,000 limited ape collection. Byzantion also added collection bidding to their service.
"Bitcoin has been gaining popularity as a store value as digital gold. But with the combination with Stacks, it can actually also become the base for smart contracts. It unlocks the $1 trillion market that is already available on Bitcoin and provides this critical missing layer of smart contract." — Muneeb Ali, Co-Founder of Stacks & CEO of Hiro Systems

The Stacks Open Internet Foundation collaborated with Brink, Okcoin, Daemon Technologies, and Hiro Systems to dedicate a portion of rewards from the 24th Stacking cycle to fund talented people contributing to Bitcoin Core.
Here's a full detailed report on Stacks Social Landscape Growth for Q42021.

Major highlights of Jan'22 are:

#1 xBTC/USDA Liquidity Provision went live on Arkadiko

#2 Megapont announced their Megapont Fund
It's the gateway to a grant and/or time from the Megapont team to kickstart your Stacks project. The Megapont Team will help successful applicants in any way we can and aim to provide constructive feedback if we do not push forward with your application.
Apply here

#3 Stacks accelerator announced a new program CityCoins Accelerator Track for Cityscape being built on CityCoins,


Scope of the program includes:

Startup funding
Support from top mentors in web3 and Stacks
Product & marketing training, support on design, admin, legal & ops
Pitch coaching, investor matching & demo day

Apply here

Click here to read more.
#4 Partnership announcement of Eggschain and Boston IVF
Eggschain, a Stacks-based genetic data tracking platform, has signed a partnership with Boston IVF, a famous American infertility clinic:
"Using the blockchain to track biospecimens such as sperm and eggs empowers individuals facing reproductive issues. This pivotal partnership enables greater confidence through the transparency and immutability of the data."
Click here to read more.
#5 CityCoins: a solution for City Government and Local Funding


Here is a comprehensive article covering all Ws of CityCoins:

– How do CityCoins and MiamiCoin Work?
– What's the Point of CityCoins?
– Potential Pitfalls of CityCoins
– Closing Thoughts
– References and Further Reading

Click here to read more.
#5 The WELSH listing governance vote passed with ~95% in support.

The STX/WELSH pair was added on the Arkadiko Swap. The pair was enabled after the Welshcorgi team added liquidity (45K STX against 250M WELSH). When trading opened, 1 WELSH was available for 0.00018 STX.
#7 Stack-based DAO, ExecutorDAO is launched
Marvin Janssen, Technical Lead of the Stacks Foundation published a Stacks-based DAO, ExecutorDAO. The one DAO to rule them all, ExecutorDAO is designed to be completely modular and flexible, leveraging Clarity to the fullest extent. The core tenets of ExecutorDAO that make this possible are:
Proposals are smart contracts.
The core executes, the extensions give form.
Ownership control happens via sending context.
Click here to read more.
#8 STXNFT launched their new website
STXNFT was started to make it easier to manage your NFTs in one place, regardless of where you bought them. This is the first step in a complete redesign of the site, from the ground up.

Click here to read more.
#9 Stacks ecosystem became #1 Web3 project on Bitcoin


On the first anniversary of the launch of Stacks blockchain (STX), which seeks to make Bitcoin (BTC) programmable, the network achieved over 350 million monthly API requests, 40,000 Hiro (development tool for Stacks to build applications on Bitcoin) wallet downloads, and 2,500 Clarity smart contracts.
Click here to read more.
#10 Megapont Newsletter #4
To celebrate Stacks Mainnet Launch Anniversary, Megapont partnered with the wonderful people at Byzantion and Project Indigo to create a limited edition, freely claimable NFT. Anyone with a Stacks wallet could claim this by heading over to Byzantion.
These free NFT's were capped at one per wallet and there was a limited number of them available. The claim function was available for 144 blocks(~24hours). The collection contained Wasteland Apes, a collaboration between Megapont and Project Indigo and is a fully generative collection with a maximum supply of 10,000.
Click here to read more:
Stacks Mainnet Anniversary
Merchandise Update
Robot Factory Reopening
Megapont X ALEX
Megapont Sandbox

#11 ALEX Launch
ALEX, the first full-service DeFi platform on Bitcoin announced that it will be deploying its mainnet on Stacks. With approximately $250 billion total value locked in DeFi, principally on Ethereum and other chains, ALEX unlocks Bitcoin's DeFi potential by providing lending and borrowing services to bitcoin holders.
After launch on 17th Jan'22, users are now able to use ALEX's platform to lend a variety of crypto tokens, borrow at a fixed rate without risk of liquidation, deposit tokens to earn interest, and engage in yield farming.
Click here to read more.
You may also add liquidity here, trade here.
Listen to ALEX Co-founder Chiente Hsu explaining the process of launching your own token with their launchpad by clicking here.
#12 $STX got listed on Coinbase exchange
STX is now live on coinbase.com & in the Coinbase iOS & Android apps. Coinbase customers can log in to buy, sell, convert, send, receive or store these assets.
#13 Wrapped Bitcoin on Stacks (xBTC) is now available for trade on OKCoin & Arkadiko
Check Wrapped.com's tutorials:
1. How to swap BTC to xBTC using OKCoin
2. How to swap STX to xBTC using Arkadiko
#14 Experiential NFTs' on Superfandom
Lindsay Lohan will join several other entertainment stars and sell experiential NFTs, as well as become an advisor to the Superfandom marketplace on the Stacks blockchain.
"Experiential NFTs are more suitable for creators because digital art [NFTs are great] if you're an artist, but what if you're a chef or an actor?"
Superfandom is a subsidiary of Rare Sense, which is backed by Stacks developer tools company Hiro.
Click here to read more.
Is the Bitcoin blockchain the next stop for NFT hunters? Check this article from Exodus to find out about some of these Bitcoin NFT projects, and why Bitcoin might be the next big destination for NFT hunters.
#15 STXNFT Update
STXNFT is dedicated to the incredible Bitcoin NFT community and loyal user base. While they are still just a small core team, they are growing quickly thanks to community support.
They recently announced the biggest marketplace upgrade yet. They are making it easier for users to find, buy, and trade their favorite NFTs and making it practical for Creators to deploy fully-fledged smart contracts for any collection without the need for scripting.
Click here to read more.
#16 Stacking is now available on Binance
Stacking went live in Binance, the largest exchange in the world in terms of the daily trading volume of cryptocurrencies. It offered Triple BTC rewards for Cycle 26.
#16 Xverse Wallet now fully supports CityCoins
With NYC mayor Eric Adams' approval of the NYCCoin and Miami's mayor Francis Suarez announcing that Miami will give 'Bitcoin Yield' from MiamiCoin to its citizens, CityCoins cemented itself as the number one protocol for cities in the United States.
CityCoins presented an overview of MiamiCoin technology on the third day of The North American Bitcoin Conference in Miami, Florida. Click here to read more.


#17 Bitcoin Ecosystem: A Guide to Programming Languages for Bitcoin Smart Contracts
So you want to create a business or application on Bitcoin. Now, you have to decide what programming language you'll use to build it. In this article, Hiro lists the different programming languages for Bitcoin smart contracts and breaks down the pros and cons of each, so you can pick the right language and code the best version of your idea.
#18 Solving the Blockchain Trilemma
Bitcoin can solve the blockchain platform trilemma. With Stacks, Bitcoin could become the base of a thriving ecosystem of decentralized solutions. In this piece, Hiro highlights how the Stacks blockchain enables smart contracts for Bitcoin to birth a new era of decentralized solutions within the Bitcoin ecosystem.
Read More: Stacks Holiday Drop 2021 – Winners of BTCNFTGiveaway
About StacksScan
StacksScan provides ecosystem updates of Stacks, a global community working together to build a user owned internet. #STX enables DeFi, NFTs, & Web3 on #Bitcoin. Authors: Saurabh
About Stacks
Stacks 2.0 is a layer-1 blockchain that connects to Bitcoin for security and enables decentralized apps and predictable smart contracts. Stacks 2.0 implements PoX mining that anchors to Bitcoin security. The platform is powered by the Stacks coin (STX), which is used for fueling the execution of smart contracts, processing transactions, and registering new digital assets on the Stacks 2.0 blockchain.


Read more about Stacks here:

Read more about Stacks Chapters here:
Stacks India | Stacks China | Stacks Indonesia | Stacks Japan | Stacks Korea |  Stacks MENA | Stacks Pakistan | Stacks Russia | Stacks Turkey
Read More: Stacks Holiday Drop 2021 – Winners of BTCNFTGiveaway