Technology is a boon no doubt. It has made our lives easier but at the same time made us prone to the cons of swindlers. The people who don't exercise enough caution end up losing their privacy, funds, ideas etc. Therefore, it is always said that one should be wary of one's actions and the person who is being delt with over the internet. Blind trust can be dangerous.
Velpuri Pavithra, from Pune, bears evidence as to how common sense while dealing with people over net is mandatory. She recently posted an ad on OLX to sell a stroller, but what followed was something so harrowing that it is unforgettable for both her and us.  In a Facebook post, she describes the incident..
**********DISCLAIMER************
I urge you to note that this post is NOT against OLX. Nor am I against technology which I use extensively. This is just a word of caution to be careful. I have always had good experiences with OLX in buying stuff. That is the reason I posted an Ad on their site. OLX team has been supportive and have sent a mail saying that they have blocked that user's account. Let me reiterate that this is about a fraudster using their platform to con people.
I have lodged a complaint at the local police station. Also, I have sent a copy of the lodged complaint to the cyber cell's email id of Pune.
Thanks everyone for your concern and support! Realise the power of social media.
****************************************
Here is something you must read if you are a person like me, who believes that technology has eased our lives. It definitely has, by letting us buy groceries, transfer money, book a cab, order everything under the sun with just a click. Something happened this morning that asked me to pause a bit and be wary while I happily make financial transactions right left and centre.
It has been two months since I put up an Ad on OLX mentioning that I would like to sell Desh's stroller. Somehow, I didn't find a customer who would pay anywhere close to what I had quoted. I had almost forgotten that the Ad was up as there was no activity on the Ad. A couple of days ago, I received a message on the website's chat messenger asking if it was still available. I replied saying it was still available and the person agreed to pay the quoted amount. I didn't hear from him for a day. He called up this morning.
He introduced himself as Vishal and told me that he likes the pram and wants to buy it. He asked why I was selling it for such a low price when the pictures are so impressive. I told him that there was no damage and it is in great condition. I suggested to him that it would be good if he came in person and checked the condition before agreeing to buy it. He said that he lives in Mumbai and he wants to buy it for her sister who lives in Pune and it is a surprise. (In my head, I went "How sweet of an uncle to do this to his niece/nephew"). He offered to make an online transfer to my account and said that his sister would come and collect it tomorrow. On asking for his email id for sending the details, he asked if I could share my account details on WhatsApp. I did. Within 3 minutes of me sharing the details, I received an SMS from one of these 5 digit numbers (like 59444) saying my account has been credited with 13,500 while the money that had to be transferred was 3,500.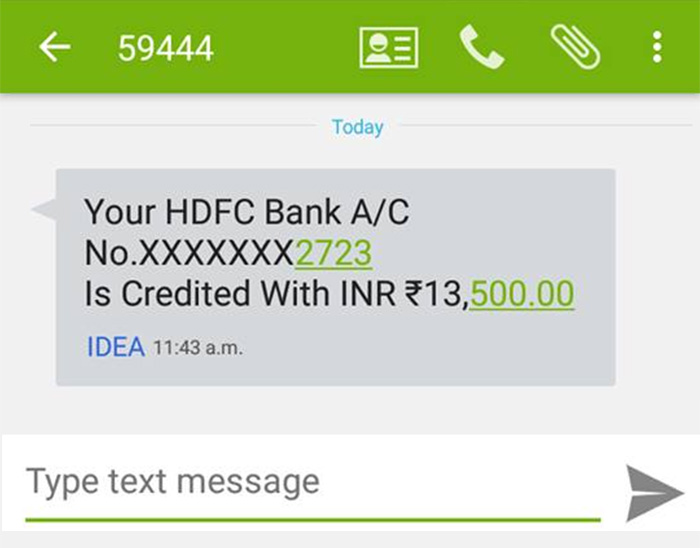 I was not sure what was happening. I pinged this person on WhatsApp to check what had happened. He said it was done by mistake.
He portrayed as if it was a transfer that was intended to reach his mom and requested me to transfer 10K. He said it was urgent, he had to send it to his mom who was waiting at a hospital to pay the bill.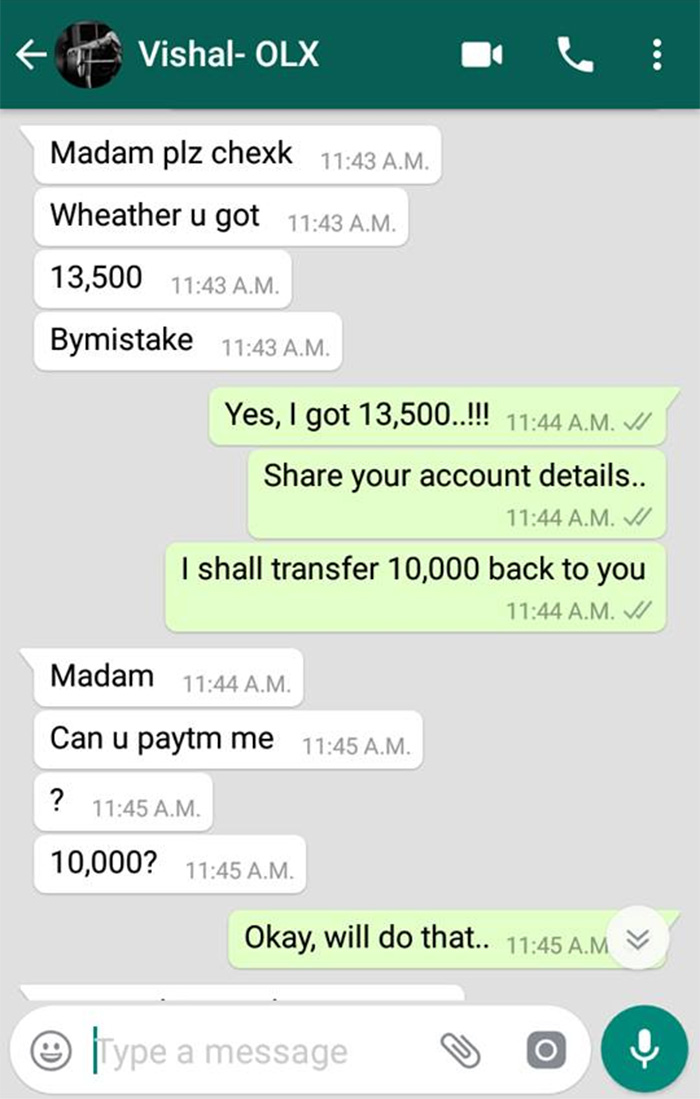 When I asked for his account details, he asked if I could transfer through Paytm to his mom's number.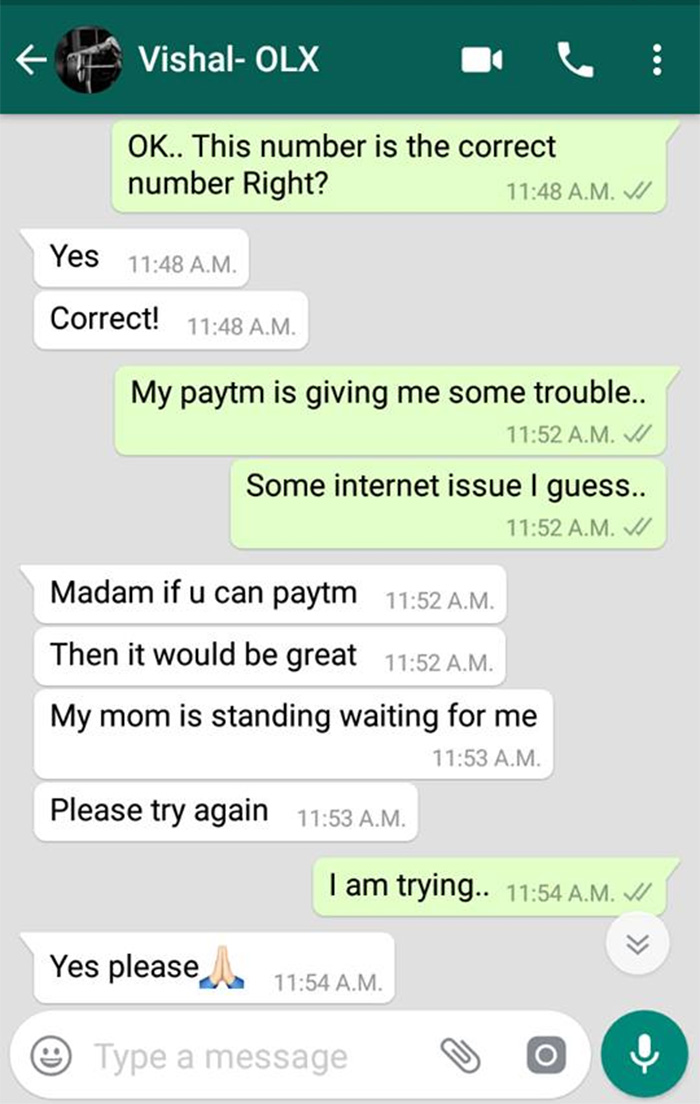 I agreed though I sensed something was fishy.
For a moment before I transferred, I wanted to check my account online and not trust the SMS. I found that there was no money transferred. I called my bank's customer care to check if there is a possibility for such a quick transfer within three minutes. He asked me to check the transfer mode( NEFT or IMPS). In either of the cases, it would take at least 2 hours for a transfer to happen, is what the personnel informed.
As I kept talking to the customer care, I kept receiving messages from Vishal saying it is urgent and his mom is waiting for the money.
I told him that I didn't receive the money. I called him up to tell that it would take two hours for the transfer to happen(even if he had transferred), check what he was up to, asked him which bank he transferred from etc. He said ICICI, figured that I was probing and hung up the call.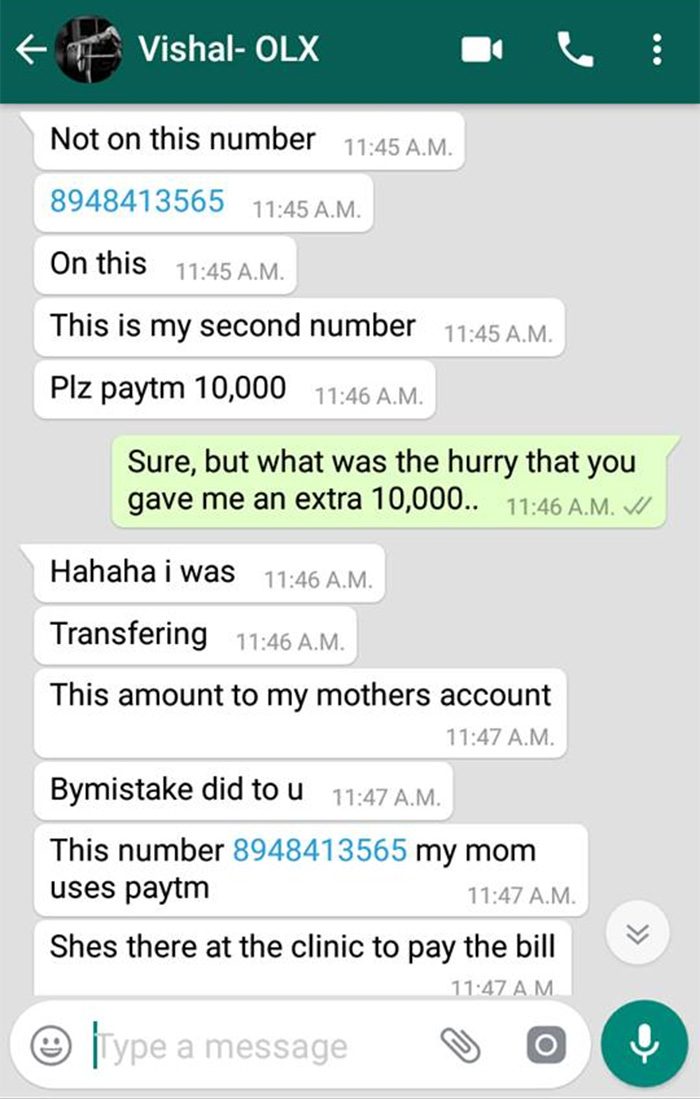 I called him 3-4 times after that and his number was busy.
It took me a while to digest that I was on the verge of getting tricked and the convoluted nature of the trick shook me quite a bit. Until I sat to key in this post, I kept giving myself that benefit of the doubt that he does have a sister and he wants to buy the stroller for her baby and his mom isn't in trouble. In the hindsight, it dawned on my mind that no bank would allow a transfer until at least half an hour after adding the beneficiary. Had it occurred to me when I received the credit SMS, I wouldn't have fallen for that mom sentiment for 10 more minutes.
I received a call from him after two hours which I chose to ignore. Sent him a message on WA saying 'I didn't receive any money in my account. Hope you stop tricking people into traps like these. I really wish you had a sister and you wanted to buy it for her son/daughter. Also, I wish your mother doesn't fall sick and stand in a hospital queue waiting for 10,000 rupees from you'.
How much can one misuse technology, stoop to new lows, manipulate your emotions for quick bucks! I really wish he used his intelligence that he invested in creating an account on a portal, making seemingly genuine inquiries, faking bank SMS es, cooking up tales and sharing Paytm details in something else and earned 10 rupees through honesty and hard work. Here are the numbers that I received calls from and was asked to transfer money to.
Call :+91 9967957477
Paytm: +91 8948413565
Do not trust anyone blindly and make a transaction only when you've verified the credentials because today it was Pavithra, tomorrow it could be anyone of us.