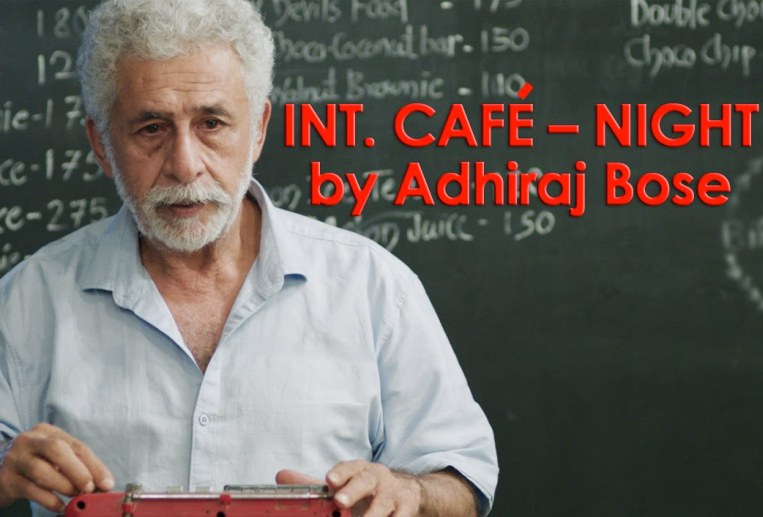 Naseeruddin Shah and Shernaz Patel raise the acting stakes in a quaint little cafe. It's a 12-minute short that depicts love, loss, and reunion.
Int. Café – Night, a Hindi-language short film by Adhiraj Bose, is an ode to love that was once lost and is now found. Uploaded online on Monday evening, it features veterans Naseeruddin Shah and Shernaz Patel as an older couple who parted ways 30 years ago and meet at the former's café in Kolkata (actually shot in a café in Mumbai's Bandra West area) by chance.
At a table nearby, a younger man, played by Naveen Kasturia (best known for his work with The Viral Fever, including the hit web series Pitchers), sits nervously by himself, waiting for someone. A girl, played by Shweta Basu Prasad (Makdee, Iqbal), walks in, her face stained with tears.
While the older pair catch up on everything that happened over the past few decades (she moved to London and went on to marry and have children; he stayed a bachelor), the younger couple — who are on the verge of breaking up because Prasad's character is moving away — debate the practicality of trying to maintain a long-distance relationship. By no coincidence, Kasturia and Shah are both curly-haired and of similar build.
Bose, who has previously directed sketches for comedy collective All India Bakchod, and co-writer Sainee Raj create some very likable moments that are elevated further by the fine cast. Technically, it is quite well-executed, although one wishes director of photography Santhana Krishnan Ravichandran had restrained himself when it came to lighting certain shots; also, they could've gone easy with the make-up on Kasturia's already-camera-friendly face in a couple of places. However, to its credit, the film displays some subtlety and doesn't resort to using an overwhelming background score or obtrusive sound design to make its point.
Video: LargeShortFilms
Also Read More: Best Movies Of Vicky Kaushal