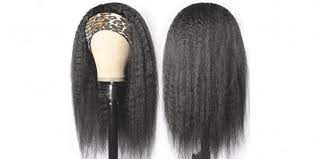 Are you tired of tearing your hair while taking off sticky wigs? Are you looking for a quick, easy to wear, and affordable wig that won't burn a big hole in your pocket? Well your search is over. You need a headband wig.
What is a headband wig?
A Headband Wig, as the name implies, is a wig that is attached to a headband. Pieces of hair are sewn onto the wig cap, and the base of the wig is attached to the headband. When you wear a headband wig, you pull the headband back a bit to show off your hairline. This creates the illusion that the wig is an extension of your hair and you're just accessorizing it.
If you are new to wigs and don't know how to apply an adhesive wig, then a headband wig is perfect for you. It does not require much skill to install. Also, you can change your look just by changing the headbands.
How to care for your headband wig
Your wig needs just as much care as you give your natural hair. If you want your headband wig to serve you for a long time, you need to take proper care of it. You don't have to do much. All you need is shampoo and conditioner. Simple washing and moisturizing can keep your headband wig looking lush and durable. Follow these steps when washing your headband wig.
Detangle: Comb your wig with a wide-toothed comb to detangle it. Start at the end and gradually work your way to the root. This technique will help reduce hair loss.
Shampoo: Wet hair with water, then work a small amount of shampoo into hair. Do not rub or squeeze the hair to avoid tangling. Run the shampoo along the length of the hair in a sweeping motion.
Rinse: Rinse hair with lukewarm water.
Condition: Apply conditioner to the ends of hair only, using the same technique as shampooing. Be careful not to apply it to the roots. Let the conditioner sit for a while, then rinse with water.
Dry: Gently pat wet hair with a towel and place on a stand to air dry.
Brush: Brush hair until smooth.
Why choose a headband wig?
If you are still undecided about a headband wig, here are four reasons why you should choose a headband wig.
It is designed to be easy to put on and take off, and is therefore suitable for first-time wig users.
It protects your natural hair underneath because no glue will be applied to your hair.
They are available in different styles, so you can style your hair in different ways.
Headband wigs are lighter in weight than traditional wigs.
Why Isee hair
There are many online stores that sell lace front wigs, but here are some reasons why.
Choose Isee Hair over other brands.
Isee Hair provides the best quality hair while guaranteeing professional and knowledgeable expert support for a pampering online shopping experience.
We have a wide variety of headband wigs such as Curly Afro Wig, headband wigs, lace front wigs, v part wigs and u-part wigs.
For every headband wig you buy, you get five free cute headbands.
Our online store is accessible and user friendly.
We sell quality wigs with 100% virgin human hair.
Wrap it up
You don't have to break the bank to look good. Headband wigs allow you to slay on a budget. You get even more amazing deals when you shop at Iseehair.com. It's a double dose of fabulous human hair at mouth-watering prices.
Also Read More: Skincare 101: When and How to Use These Popular Skincare Ingredients