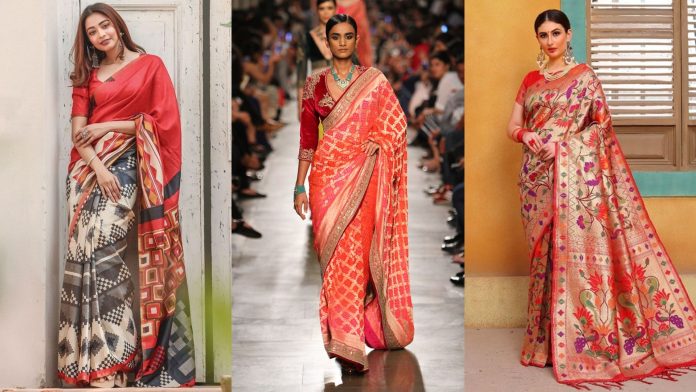 Bandhani is an extraordinary art form that dyes your sarees in many beautiful colors and patterns. Bandhani is derived from the verb 'Bandhana', which means to tie up. Thus, this is the supreme tie and dye technique to impart vibrant colors and designs to sarees. Natural colors like yellow, blue, green, and black are typically used in bandhani. Each color has a unique meaning. For instance, yellow denotes happiness and springtime, and red represents luck for a wedding. Combinations of dots that are the first block printed on the cloth create the designs on the fabric. The sikharibhat (forest landscape), ambaa dal (mango orchard), and chakalipopat are three examples of popular patterns (sparrow, parrot).
Styling Yourself with Beautiful Bandhani Sarees
For saree lovers, Bandhani isn't just an art form but a feeling. The beautiful patterns created will help you create the most mesmerizing looks. You can choose from the many colors of Bandhani sarees according to the ones that accentuate your complexion and looks. You can wear traditional Rajasthani and Gujarati jewelry and a saree to make the look more elegant and coherent. Basic sarees with simple patterns can be purchased for regular use. Stylized Bandhani sarees with elaborate patterns and kota work would be perfect for big events like weddings or festivals.
Types of Bandhani Sarees
A variety of Bandhani sarees are available, so you are bound to find one that matches your preferences. Four Bandhani dots are referred to as Chaubundi, seven as Satbundi, and one as Ek Dali or Bundi. Boond is small, tear-drop-shaped dots with darker centers; Kodi is larger, tear-drop-shaped dots.
As for the different types of Bandhani sarees, here are some popular types mentioned.
Jhankaar Bandhani Sarees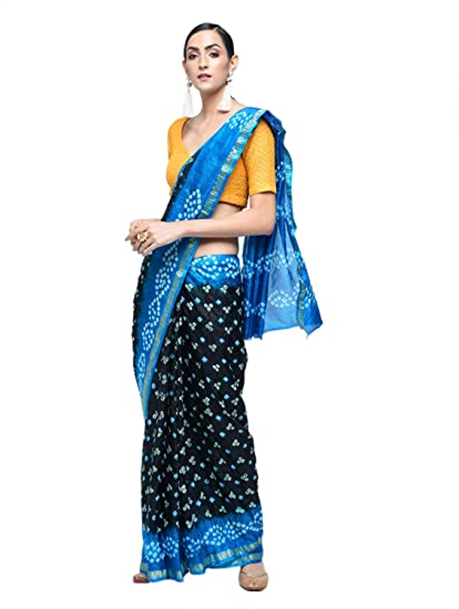 This particular bandhani style has incredibly intricate patterns and is very vivid and vibrant. Unlike other Bandhani styles, Jhankaar Bandhani lacks light or white dots. An all-green Jhankaar Bandhani, for instance, will feature red or maroon dots.
Borjaal Bandhani Sarees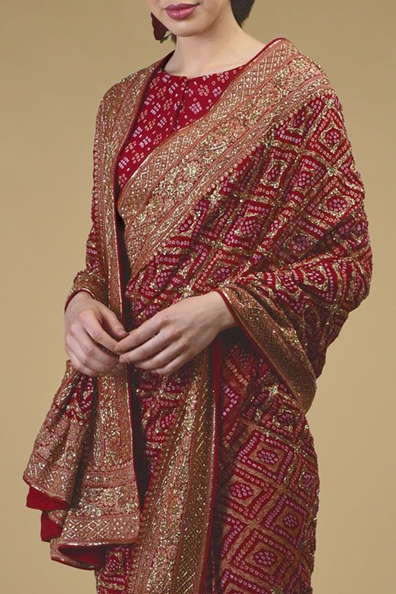 This more sophisticated and elaborate Bandhani is particularly well-liked among Marwari people, as the term (jaal or web) suggests. The exquisite color and dot interaction on BorJaal Bandhani sarees creates a lovely labyrinth. They are offered in many different colors and georgettes as well.
Banarasi Bandhani Sarees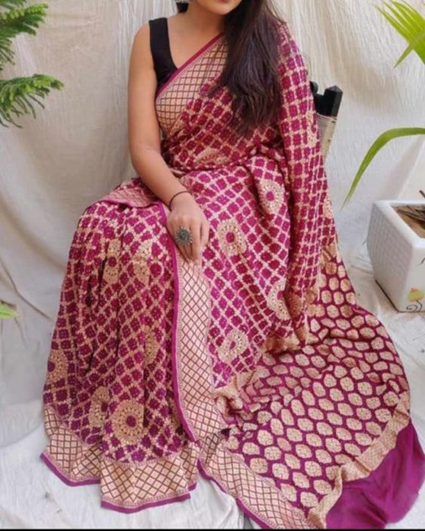 A Bandhani saree with a Banarasi brocade border is known as a Banarasi Bandhani saree. It is typically fashioned from pure, premium georgette fabric with brocade and Banarasi weaving borders. These pricey sarees frequently have exceptionally beautiful bandhani work. This makes this saree a popular option for many brides during their weddings.
Different Draping Styles of Bandhani Sarees
There are many different fashion styles you can drape your Bandhani sarees in. You can drape the Bandhani saree in the traditional Gujarati style to make an ode to the saree's origin state. You can also opt for a front pallu instead of the usual style. You can also wear the saree dhoti style by wearing a dhoti underneath the saree. You can wear a pant instead of a petticoat as well. You can also wear a big blazer or jacket over your saree and complete the look with a signature belt.
Thus, the beauty of Bandhani sarees can be expressed using a variety of designs, colors, and draping styles. Every saree lover's collection is incomplete without a Bandhani saree, so purchase a vibrant Bandhani saree as soon as possible.
Also Read More: Match your eyewear with London Fashion Week Styles