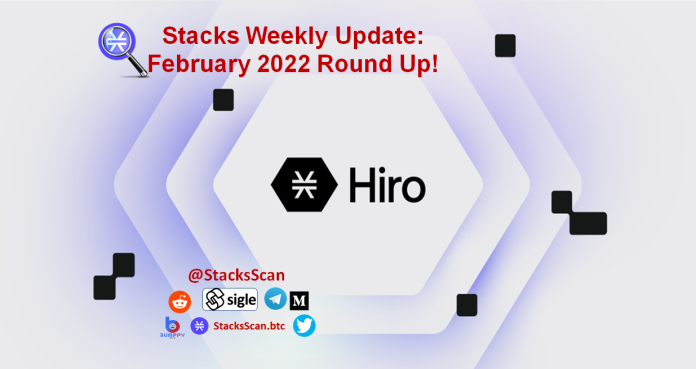 The global economy is shifting away from physical goods to services, digital goods, and the knowledge economy. As more economic activities shift to digital mediums, decentralized financial solutions powered by blockchain will become central to enabling security and trust in an untrusting world.
The Reign of Centralized Apps is Ending, The main differences between a decentralized app and a centralized one relate to ownership, data storage, and how users interact with one another. Read more about the main differences and how we can start replacing apps for Dapps.
For us, February was the month of big announcements, Big Moves at Hiro — New Roles for Muneeb, Alex, and Diwaker. Muneeb Ali has transitioned to Hiro's first Executive Chairman, Alex Miller is now Hiro's CEO, and Diwaker Gupta has moved to the first CTO role in the company. Let's congratulate them.

Why haven't we seen DeFi and web3 apps on Bitcoin earlier? pic.twitter.com/9RdbQUBnHK

— muneeb.btc | Away (@muneeb) February 7, 2022

February would be remembered as the month in which Trust Machines was born,"the true potential of bitcoin" can be unleashed only by developing decentralized finance applications such as DAOs and NFTs; creation of a separate entity will be helpful to the community and protocol. Also Stacks 2.05.0.1.0 was released.
Stacks conducted Bitcoin Innovation Virtual Summit on 24th Feb, we will publish a separate recap for the same.
One big question we want to answer is: "Using Blockchain – Is the Future of Finance in the Bitcoin Ecosystem?"
Cryptocurrencies are more suited to facilitate the transfer of value in a digitized global economy because they are designed for the digital world. Read more about the reasons why blockchain technology will slowly take over the world.

Hiro is hiring, check the open positions here. Open positions also include a Full-time Clarity Educator.

Major highlights of Feb'22 are:

#1 Dr. Muneeb Ali raised $150 Million To Bring DAOs And NFTs To Stacks


Dr. Muneeb Ali raised $150 million to build New York-based Trust Machines, a company he co-founded with Princeton computer science professor Dr. JP Singh, which seeks to unleash what they consider "the true potential of bitcoin" by developing decentralized finance applications, DAOs and NFTs on the rebranded Blockstack, now called Stacks, a smart contracts network linked to Bitcoin.

Investors in the round include:
Breyer Capital
Union Square Ventures
Digital Currency Group
GoldenTree
Hivemind
"We believe that bitcoin can be more than a store of value; it can also be the settlement layer and platform for Web 3. We're excited to support Trust Machines and their mission to help bitcoin reach its potential." – said Jim Breyer, founder and CEO of Breyer Capital and early Facebook investor.
"Bitcoin as a programmable Layer 1 is so underappreciated. Trust Machines aims to convert bitcoin's trillion-dollar value into more productive capital and grow an economy of bitcoin applications" – Muneeb Ali, Co-Founder of Stacks & CEO of Hiro Systems
Click here to read more.

#2 Arkadiko published quarterly update (Q4 2021 Report)


Since the launch (21-Oct-21) the protocol earned $39,600 revenue, had a highest TVL of $70M in December, ~1900 active swap addresses, and a treasury of $2.1M. Community consists of ~1700 Discord members & ~7000 Twitter followers.

Swap volumes
Up until the 1st of January, 9372 swaps happened (about ~140/day):
STX/USDA: 7,952,869.032729 STX / 17,722,908.730486 USDA
DIKO/USDA: 2,263,614.941926 DIKO / 3,766,660.038943 USDA
STX/DIKO: 3,931,624.094813 STX / 4,310,568.844445 DIKO
STX/xBTC: 225,921.648602 STX / 9.37609042 xBTC
xBTC/USDA: was not live yet
STX/WELSH: was not live yet
The team consists of 4 core contributors and 4 community managers. This might grow up to 10–11 people this year, depending on the progress.

2022 High-Level Goals
1. Improve LTVs on STX-A and STX-B (currently 25%)
2. Introduce xBTC as a collateral type with 25% LTV
3. Improve LTVs on xBTC, STX-A, STX-B collateral types
4. Form USDA integrations/partnerships with high-profile projects. Currently we have one great project in the pipeline.
5. Improve strength of USDA peg

Click here to read more.
Community Vote to upgrade SIP10 reserve to add xBTC as collateral
A governance proposal was running last month to upgrade the SIP10 reserve to add xBTC as a collateral type. Please use your DIKO or stDIKO to vote if you haven't done yet:

Here is Why xBTC is Important For Bitcoin to Grow
https://youtu.be/xIoadrfSdi4

Click here to vote.


#3 Lydian – use case for $USDA


Lydian will issue a token LDN that can be bought with USDA. It will be a DAO for people who want to get exposure to DeFi & yield farming opportunities without being a DeFi expert and putting in all the active management work that is required to earn the best and most sustainable yields.

https://twitter.com/philipdesmedt/status/1486372447289069568
Click here to read more.


#4 Stacks got listed on CoinList


CoinList's relationship with the Stacks Ecosystem goes back to Blockstack PBC's 2017 STX token sale (the 2nd token sale was run by them and it was the highest registered offering that year) and its 2019 Reg A token offering, the first-ever SEC-qualified token offering in the United States. It's thrilling to complete this one-of-a-kind journey and to have STX listed on CoinList.

CoinList users can now trade Stacks on CoinList, CoinList Pro, and the CoinList mobile.

Click here to read more.
Stacking $STX can yield up to 10% APY in $BTC. Click here to participate.

#5 OKCoin NFTGiveaway


Stacks has found the key to unlocking a world of DeFi on Bitcoin, so OKCoin teamed up with Stacks to airdrop free NFTs & a chance to win up to $10,000 in crypto.
Click here to read more.


#6 Mutant Monkeys Serum Mint


Mutant Monkeys is a collection of 5,000 NFT's that can only be created by transforming a vial of SERUM into a Mutant Monkey. In the process, the Serum NFT will be burnt and you will receive a Mutant Monkey NFT for free.

A total of 5,000 Mutant Serums have been developed and were accessible in various ways:
3,490 Mutant Monkey 1 (MM1) Serums were available at a price of 45 STX.
1500 Mutant Monkey 2 (MM2) Serums were exclusive for Bitcoin Monkey holders or those who obtained $BANANA. MM2 Serums cost 500 $BANANA at the Monkey Store.
10 Mutant Monkey 3 (MM3) Serums were mixed randomly into the MM1 mint. MM3 Serums created 1 of 1 Legendary Mutant Monkeys.
Click here to read more.
#7 Tips & Tricks to Prepare For a Down Market
If you're crypto-committed, a bear market can wreck havoc on your portfolio and your mental well-being. But there are smart ways to put your crypto to work while everyone is hibernating (and building). From stacking to staking to getting more involved in governance, in a recent webinar Stacks shared tips on how to be in the best position to benefit from the next bull run.

Here is a recap for you:

#8 Xverse Wallet – Focus for 2022
Xverse conducted a community for their 2022 plans, voting options included:
Browser extension wallet
Ability to purchase STX
Push notifications
BNS name support
Pool stacking on web
Better NFT support
#9 Allbridge become the first token bridge for $STX


Multi-chain token bridge Allbridge will become the first to offer Stacks (STX) transfers as part of a partnership with Bitcoin software developer Daemon Technologies.

The Stacks Bridge will go live in Q2 2022. It will initially only support transfers of $STX but is planned to support transfers of other Stacks protocol SIP010 tokens such as $ALEX and the $USDA stablecoin. There are also plans to enable nonfungible token (NFT) transfers between chains.
https://twitter.com/STXDaemon/status/1491467917501755393

Click here to read more.

#9 Magic Bridge, a Magic Bitcoin Bridge

Magic Bitcoin Bridge is a protocol for atomic swaps between BTC and xBTC on the Stacks blockchain. This will allow import of Bitcoin directly into the favorite protocols on Stacks. It's completely open source, on-chain, decentralized, and trustless.
#10 Tokensoft xBTC : Wrapped.com to wrap $BTC on $STX – xBTC
Wrapped.com, a collaboration between industry stalwarts Tokensoft and Anchorage, and specialists in wrapped crypto assets, will soon offer wrapped bitcoin on Stacks, or 'xBTC'.
Click here to read more.


#11 Byzantion Trading Volume Leaderboard
Byzantion now has a leaderboard for volume on the http://byzantion.xyz homepage. This makes it easy to navigate to projects seeing the most action as soon as one lands on Byzantion.
Here is how to buy NFTs:

https://youtu.be/BdRAxRqnLWw
#12 Stacker DAO – Launch Announcement


Stacker DAO will enable launching of NFT communities, civic groups, guilds, investment funds, and more with just a few clicks.

https://twitter.com/stackerdaos/status/1489701074202152964
#12 Satoshibles became the First NFT Collection to Bridge Between Ethereum and Bitcoin via Stacks


Satoshibles NFTs can now be bridged from Ethereum to Stacks, a platform that is secured by Bitcoin. StacksBridge can also be tapped by other projects to tap into cross-chain benefits.

The StacksBridge offers Satoshibles owners the opportunity to shift back and forth between the blockchain platforms—and other NFT projects can adopt the technology to support Stacks as well.
Click here to read more.
#12 Bitcoin Badgers began breeding on February 14th, Valentine's Day


Anyone with two or more Badgers could breed them in pairs of 2 to create a Baby Badger.
If someone bred 2 badgers with the same trait, there was a higher likelihood of that trait being passed down to Baby Badger. Additionally, each Badger came with one free "heart" that could be allocated to a favorite trait to increase further the probability of that trait being passed down to the Baby Badger. There was no cost to breed a Baby Badger other than the network transaction fee unless someone chose to purchase additional hearts (5 $STX).

Click here to read more.
#13 Blocksurvey raises $500K


BlockSurvey, a blockchain-based survey platform, has raised $500k in a pre-seed round from blockchain innovators and strategic investors. The funding round saw participation from blockchain innovators, such as Stacks Accelerator, Gossamer Capital, DeSpread, GBV Capital, among others.
Click here to read more.
#14 HeyLayer launched a new update with killer features for BitcoinNFTs


With the new release, you can now do the following:
Pay with Apple Pay
Google Pay
MetaMask Integration
Editions
Video NFTs
Click here to read more.


#15 Introducing Zest Protocol
Zest is an on-chain Bitcoin capital market!

Zest offers sustainable Bitcoin yield for liquidity providers through professionally managed lending pools and undercollateralized on-chain Bitcoin financing for institutional borrowers without constant fear of liquidation.
Pools are managed by pool delegates who whitelist borrowers and earn performance fees while building the Bitcoin economy.
Click here to read more.


#16 Sigle Explorer Museum
Watch this amazing first preview of the metaverse explorer museum from Sigle, it has two phases:
1. Interactive museum of burned explorers.
2. Something special only available for Explorer holders
#17 Stacks Degens Game

It's GameFi on Stacks, secured by Bitcoin. The team accomplished the following:
Off-chain utility for NFTs
@PunksOnStacks in-game integration
Player rewards (over 1200 $STX in one month)
#18 Introducing City Cats
City Cats is a P2E NFT game that leverages CityCoins and a cute cat character.
There are a total of 2,050 first-generation city cats, which are composed of unique skin, face, background, hair, and body. Each city cat reflects a strong personality and will be the most essential part of the City Cats ecosystem going forward.
Click here to read more.

#19 Celebrating Stacks Chapters Across the World
It's been almost a year since Stacks Chapters were launched, where life-long community members become leaders to accelerate the Stacks ecosystem's local community growth and development efforts.
Click here to read more.
Read More:
Stacks Weekly Update: January 2022 Round Up!

Stacks Holiday Drop 2021 – Winners of BTCNFTGiveaway
About StacksScan
StacksScan provides ecosystem updates of Stacks, a global community working together to build a user owned internet. #STX enables DeFi, NFTs, & Web3 on #Bitcoin. Authors: Saurabh

Read more about StacksScan here:


Bumppy | Twitter | Telegram | Medium | Reddit | Sigle

About Stacks
Stacks 2.0 is a layer-1 blockchain that connects to Bitcoin for security and enables decentralized apps and predictable smart contracts. Stacks 2.0 implements PoX mining that anchors to Bitcoin security. The platform is powered by the Stacks coin (STX), which is used for fueling the execution of smart contracts, processing transactions, and registering new digital assets on the Stacks 2.0 blockchain.


Read more about Stacks here:


Stacks.org | Stacks.co | Twitter | Telegram Chat | Telegram ANN
Read more about Stacks Chapters here:
Stacks India | Stacks China | Stacks Indonesia | Stacks Japan | Stacks Korea | Stacks MENA | Stacks Pakistan | Stacks Russia | Stacks Turkey
Read More: Stacks Weekly Update: January 2022 Round Up!