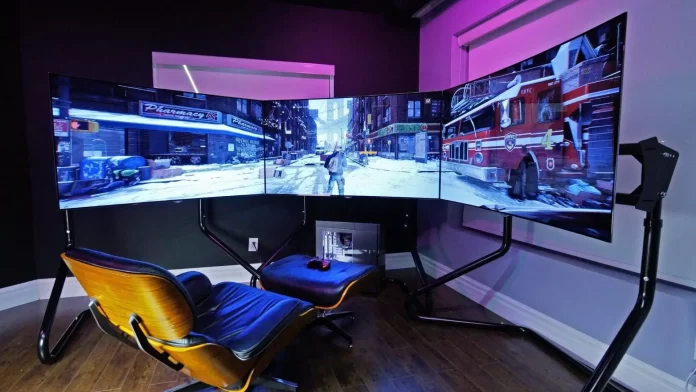 Are you a fan of video games and want to create the ultimate set-up in your home? Whether you plan on gaming by yourself, with family members or even friends, having the perfect set-up is the key to comfort and enjoyment. We've got some great tips that will help you to design the ultimate video game room that will be the envy of your friends and prompt you to spend as much time as possible gaming.
Can you create a separate space in the house?
The first question is where you plan on setting up your gaming gear. Ideally, it is a separate space in the house so that you've got some privacy, giving you more control over such things as sound and lighting. The basement, a spare bedroom or even a corner in your room can all be good options.
The television choice plays a huge role
Now it's time to think about the television you'll be using with your video game console. The rule of thumb is to go for the biggest screen the space and budget allow for. Also factor in how close or far you will be sitting from the screen. Experts tend to suggest one that is 43-55 inches wide. Make sure the resolution is at least 1920×1080 for the prime viewing experience.
A sound system makes the gaming more immersive
If you're going to go all out on the best television, you need to also invest in a high-quality sound system. Sound systems are able to capture details and sounds you may otherwise miss and that contribute to the gaming experience. If you're into action games, it will make for a more immersive experience. Surround sound is the ultimate best choice, but if that's not ideal opt for a sound bar.
Comfortable Seating is a must in the gaming room
For those planning on spending many hours gaming you need to make sure you're comfortable. Good supportive seating is a must and should be enough to accommodate you and guests or other family members.
One of the most popular options are what's called gaming sofas. These have individual seats built into them so that each person can control how much they recline the seat. These are also great for using in a theater room if you plan on using the space for watching movies and television shows.
You need a reliable high-speed internet provider
Lastly, you can't be gaming online without the internet. Because there's nothing worse than lagging or slow loading games and content, it needs to be a reliable high-speed internet provider. Dardenne Prairie internet can be an option for those in the area who are looking for impressive download and upload speeds – both of which are key to your gaming experience. Bandwidth should be another consideration, especially if you're in a household that has a lot of connected gadgets.
Now that you've got all the ingredients of designing the ultimate video game room, all that's left for you to do is pick up the hottest and most trending games and get playing.
Also Read More: Main points in video game character design 3D Rendering