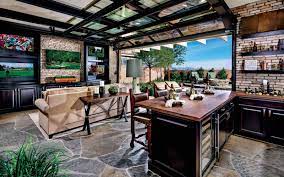 If you've got the space in your home, creating a man cave for the whole family to enjoy should be one of the things at the top of your list of things you can do with the space. Think of the man cave as a grown-up's version of the kid's playroom, where you go at the end of a long week to enjoy a sports game or gather with some friends for a cold one and a game of pool. Here are some tips on creating the ultimate man cave.
Pick a Theme
When we see pictures of well-appointed dens or man caves, they're usually themed in their décor choices. These are often in darker colors like stained wood and leather, but you're not limited there. Increasingly in popularity are themes of bare metal and lighter woods and adding plush sofas instead of leather ones, or a Sumo Lounge bean bag chair won't go amiss either. Whichever direction you go, you'll want to choose a theme and try and stick with it. Are you creating a cigar lounge feel or do you want your man cave to feel like the local bar? Draw inspiration from this feeling and you'll find a winning theme.
A Pool Table at the Centre
A pool table is a man cave staple and for good reason. Most people enjoy a game of pool, and you don't have to be good at it to enjoy it. The game table should be positioned so it becomes the center of your room. This is because it's easy to make a pool table (or any other type of game table like a card table for your poker nights or foosball table) should be well-lit by adding some spotlights facing down and highlighting it.
Bigger is Better
Somewhere to watch sports or television is a no-brainer. Get the biggest screen that will work for you, keeping in mind how far away the seating will be. You don't want to be too close to a giant screen or too far away from a smaller one. Even better, leave behind the confines of a traditional screen and opt instead for a projector and a projection screen to give your man cave the home theatre feel. Don't forget to pair it with a good set of speakers or surround sound system for both the television and music.
Have a Cold One
Don't forget to add a bar counter and some stools. Not only does it provide some extra seating and give your man cave the feeling of a local pub, but it's also important for storage. Adding a refrigerator under the bar counter is essential to keep your beers cold and avoid trips to the kitchen for a cold one, and adding some shelving or cabinetry to store your whiskeys should be non-negotiable.
There's a lot to think about and consider when you're planning your man cave, and the project of building it and putting it together can be just as satisfying as enjoying the space after, so take the time to appreciate the process too!
Also Read More: What you need to know about the smart home system