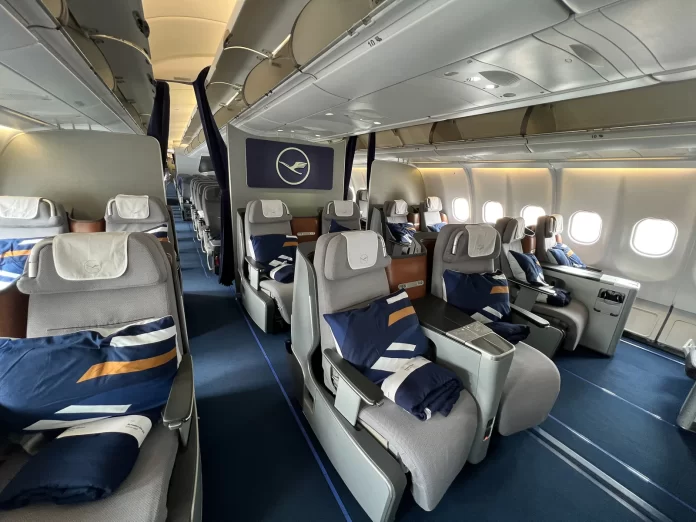 With the steady surge in the prices of goods, including the services people render, even the aviation sector isn't exempt. The travel rush over the last couple of years has also impacted the cost of business class.
While there may not be a dramatic hike in pricing in 2023, some routes may experience substantial price rises. Invariably, the business class has gained ground over other onboarding classes. Find out how much it will cost to fly in business class in 2023.
Factors that Can Affect Cost of Business Class
Generally, business class is significantly more expensive than economy class because of the enhanced amenities and services that come with it. Before costing your business class bills, let's look into the factors that may influence the prices of business class.
1. Destination of the Airline
The cost of an hourly flight will differ from that of a 7-hour flight. Likewise, a 7-hour flight won't be the same as a 12-hour non-stop flight. This means the longer the destination, the higher the costs. Additionally, routes that are in high demand or are more popular may be more expensive than less popular routes.
2. Demand Level
As with any commodity, the level at which people may demand business class can influence the cost. Once demand is high, the cost spikes to maximize profit, and when demand is low, the cost can be subsidized to encourage more passengers to board.
3. Seasons and Time of the Year
During the holiday or summer, the cost of flying business class tends to rise due to increased demand. But when the holiday is over, and everyone returns to business, demand may drop. Also, people prefer to stay indoors during the winter, which may reduce the demand for and price of flying business class.
4. Length of Stay
Another factor determining the cost of flying in business class is the length of your travel stay. Most people usually get their two-way ticket ready before venturing on their journey.
The number of days or months you want to stay can affect the cost of business class. People who stay up to a month or two before returning will likely get a cheaper return ticket.
5. Early Booking
People who book business class tickets 4 to 5 months before the scheduled departure date will likely get a cheap business class. While booking closer to the travel date may result in higher prices.
6. Market Competition
When there are several business class flights going the same route, there may be high competition for passengers, which can influence the cost.
Sometimes to curb competition, airlines may offer special deals or promotions on business class tickets, which can lower the ticket cost.
How Much it Cost to Fly Business Class in 2023
Here is the cost of flying business class in 2023:
Countries in the Middle East
Israel, Tel Aviv- $2875
Egypt, Alexandria – $2875
Bahrain, Manama- $2875
Egypt, Cairo – $2875
Egypt, Hurghada – $2875
Lebanon, Beirut- $2876
Kuwait, Kuwait City- $2875
Sharm, El-Sheikh- $2875
Jordan, Amman- $2875
Countries in Europe
France, Paris – $2170
Turkey, Istanbul – $2455
Portugal, Lisbon – $2165
U.K, London -$2592
Switzerland, Zurich – $2282
Italy, Rome – $2195
Netherland, Amsterdam – $2091
Greece, Athen – $2212
Germany, Berlin – $2205
Spain, Barcelona – $2190
Countries in Australia
Australia, Brisbane – $5408
Australia, Melbourne – $5408
Australia, Sydney – $5408
Australia, Perth – $5408
Countries in Africa
Ethiopia, Addis Ababa, – $3508
Algeria, Oran – $2974
Algeria, Algier – $2974
Durban, Marrakech – $2974
Nigeria, Lagos – $2974
Durban, Morocco – $2974
Countries in Oceania
Papua New Guinea, Port Moresby – $4936
New Zealand, Wellington – $4936
Fiji, Nandi – $4936
New Zealand, Auckland – $4936
New Zealand, Wellington – $4936
Countries in Asia
Japan, Tokyo – $3472
Thailand, Bangkok – $3508
Malaysia, Singapore – $3598
Philippines, Manila – $3368
You can visit site to learn more about booking a business class. However, it's important to consider any additional fees or charges associated with business class travel, such as airport taxes, fuel surcharges, and baggage fees.
Some airlines may also offer premium services, such as lounge access, priority boarding, and additional baggage allowances, which can add to the overall cost of the ticket.
Conclusion
Knowing how much business class costs in 2023 is easy. All you need to do is visit the site of the booking agencies to check for fees and book your ticket. You can maximize great travel opportunities, and having a reliable travel agent for your travel experience is a plus.
Also Read More: 6 ways to Transform your Game Room