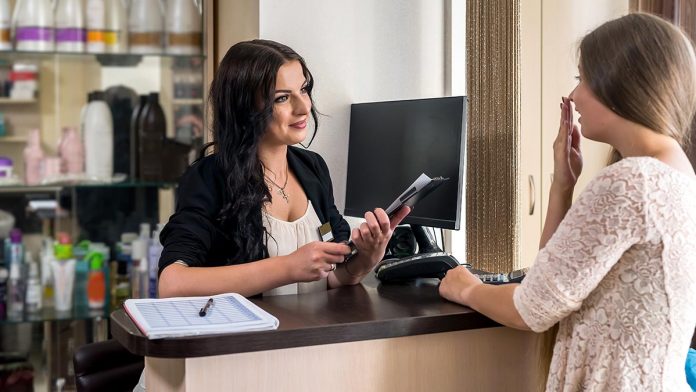 Customer Relationship Management (CRM) is by a mile the most important role you have to play as a salon owner or manager. That's because your salon's very existence is almost entirely dependent on its customers. Your business profitability and growth depend on your customer satisfaction, retention, and overall client experience. You, therefore, must constantly improve the quality and consistency of the relationships your business has with its customers. That is where salon management comes in. This article explores 5 ways through which your software can enhance your salon's relationships with clients and boost their experience.
1. Empowering clients to manage their own appointments
An ambitious salon owner starts cultivating a positive client experience right from the first interaction, be it online or offline. A good first impression gives clients the motivation they need to book your services and hang around for more of your services. Your salon software helps you nail your first impression on each new online client by enabling online booking.
Your software's hair salon online booking feature empowers clients to manage their own appointments, something that the modern client yearns for. This client doesn't exactly have the time, energy, or patience for back and forth phone calls or emails. Those processes are too slow and tedious for today's fast-paced world. The modern client also doesn't appreciate the fact that manual scheduling systems require them to book appointments strictly within your business hours. This client wants to handle the appointment process at their own convenience, from anywhere in the world, at any time of the day! Your software will provide an extremely easy and seamless appointment booking, rescheduling, cancellation, and rebooking for your customers. Clients get to decide for themselves not only their preferred slots in your schedule but also the stylists they prefer to be serviced by and the beauty products they would like. And because online appointment booking is, in most cases, among the first few interactions customers have with your business, seamless booking and appointment management will definitely make a good first impression.
Additionally, you can integrate your software's booking platform with multiple channels such as social media and Google My Business. That enables you to place "Book Now" buttons across these channels, making it convenient for social media users and Google searchers to convert into customers. You successfully save clients time and, on the other hand, reduce the workload at the front desk. Also, appointment details (client's name, age, pre-payments made, and contacts) are auto-filled into the system, so you are able to complete each client's check-out process faster than when using manual records. That eliminates holdups and long queues at the reception.
2. It helps you know your clients better
We mentioned above that clients' data is auto-filled in the online booking system during the booking process. The system, therefore, serves as a cheat sheet that gives you easy access to key client information. You know each client by their full name, nickname, email/physical/postal addresses, telephone number, and social media accounts. You know the language they speak, the products they prefer, the payment methods they are most comfortable with, the loyalty programs they find attractive, and even their birthdays. With all this key data at your fingertips, you are able to personalize your service delivery, your live chat messages, invoices, receipts, and email exchanges. Simply put, your system gives you a better understanding of who your clients are, what they like, how they consume marketing materials, and the areas you need to improve for a better customer experience.
Apart from collecting and storing customer data, your software will analyze and segment the data for you for easier consumption. Your stylists will only need a few seconds at the computer to prepare effectively for an upcoming appointment. That makes it easier for your staff to optimize the customer experience.
Thirdly, salon management software provides better protection of data privacy. That saves you from unpleasant legal consequences that could arise from the violation of your state's data privacy laws. In terms of customer experience, better data protection mechanisms preserve your good reputation by ensuring that client data (especially payment records) doesn't land in the wrong hands.
3. Improved communication with clients
Apart from helping you personalize your communications, your software also comes equipped with invaluable marketing automation tools. These tools will help you automate marketing emails, appointment reminders, happy birthday wishes, promo codes, and felicitations on holidays, among other customer relation communications. On top of that, by helping you know each customer better, the software helps you create a consistent customer experience. You are able to provide attentive customer support and quick response to requests, and that enhances consistency in customer experience.
Your software will also help you understand the customer's point of view by automating post-service review requests. You can use it to send surveys and feedback questions upon the completion of each service. That gets you more quality and accurate reviews that you can use to improve your CX in the long run.
4. Better inventory management means more customer satisfaction
Better inventory management means better anticipation of needs. Your software comes with a comprehensive inventory management feature that tracks your sales, orders, product levels, and clients' buying habits. It will give you access to a detailed and analyzed customer interaction history- what they bought and when as well as the offers or deposits given if any.
Your software will ensure that you have an up-to-date inventory count every time a client puts in an order, so you always fulfill orders in good time. It will tell you which products clients purchase for special occasions, which are popular throughout the year, and which products sit on your shelves for extended periods. As a result, you are able to have just the right amount of stock at any given time. That optimizes your inventory costs. Low inventory costs mean lower product prices and, consequently, better CX.
5. Better loyalty program management
Your software will improve your customer loyalty program in many ways. First, it gives you all the insights that you need for a successful reward program. It will tell you which products or services clients appreciate the most when offered on a discount and which demographic needs to be incentivized with rewards. If, for example, your salon has been struggling to attract youthful clients, the software will analyze for you the things that your existing youthful clients like. You, therefore, promise the most appropriate rewards for that particular demographic. The software will also help you determine the most deserving clients for recognition based on how much they spend, appointment frequency, referrals made, the number of pre-bookings & rebooking made, and reviews sent.
Conclusion
Salon business success necessitates that clients have only the best interactions with your salon. And with the obvious benefits that salon management software has on your CX, investing in this technology must be a priority. The software will definitely keep your salon business running and growing!