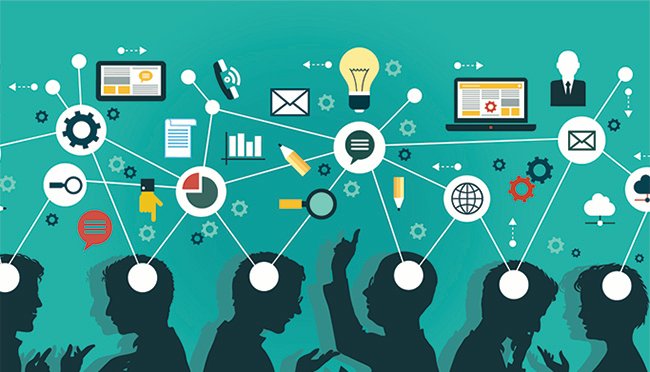 Collaborative learning is an efficient way to educate students as well as the employees of your organization. Any institute or organization can benefit from collaborative learning as it enhances high-level thinking among learners and increases the level of understanding.
For example, students are asked to form a group and complete a project. Institutions or organizations can promote collaborative learning by assigning one task to many individuals. This will enable them to develop social skills and better communication skills.
Collaborative training and learning in an organization
In simple terms, Collaborative learning in an organization means employees learn from each other and develop skills and enhance knowledge. Collaborative learning can be achieved when the employees are given a common task focusing on completing the task and achieving a common goal.
Nothing comes better than learning from someone who has a good amount of experience. Collaborative learning can take place between two individuals or a group of people. With collaborative training, you allow employees to work together, resulting in more educated, skilled, and even engaged learning outcomes.
In-person training or online training can be isolating for some employees, as they are required to attend the training sessions on their own in a formal workspace and formal environment under the supervision of seniors. Organizations investing in LMSs for boosting collaborative learning have seemed to get a better ROI than those who don't.
Collaborative learning works on the principle that people learn from each other whenever they are together. Following are the benefits of collaborative learning in an organization:
Improved Knowledge Retention
Traditional training involved training from supervisors and managers in a restricted atmosphere and with lots of formalities. But with collaborative activity, the long and complex subjects could easily be converted into accessible and understandable modules with a less formal atmosphere, thus making it more effective than the traditional training methods.
With the help of collaborative learning, the employees come closer to one another, share their learning experiences, and enhance their knowledge base and skills. Collaborative learning promotes learning from an experienced peer in the same position that may guide you better from committing mistakes and advising you on a similar problem they may have faced.
Enhanced problem-solving skills
As read earlier collaborative learning is learning where groups come together to complete a task or solve a problem and learn from each other. Since every individual in a group has different opinions and perceptions, employees can address different approaches for one task. With collaborative learning, you can see diverse solutions to one single issue. With the collaborative learning method, employees learn from each other and will learn to handle a situation in different ways and develop problem-solving skills.
Better Relationships
Since the global pandemic hit us, there has been a surge in demand for remote working and work-from-home culture. And even now, when everything has calmed down, employees prefer work-from-home where the employees are no longer required to stay in the same office or building or even the same country. This has lowered the culture of working together as a whole team, reducing social interactions and communication in the workforce.
Collaborative working lets the employees develop relationships right from recruitment and onboarding and hold a strong sense of community with each other. With the help of collaborative learning tools, the employees can chat with each other, help each other if any problem arises and develop peer relationships. This help employee feels more connected with each other and increases a sense of belonging to the organization.
Increased productivity
By creating a collaborative learning environment among employees, you can quickly solve unexpected problems that may arise at any time. In the long task performance process, you may never know when or what kind of problem occurs. Due to unavoidable circumstances, you may not be able to seek solutions from supervisors.
For instance, an employee gets stuck and struggles to solve an issue; he has wasted work hours but still has not reached a solution. But, in a collaborative environment, they can discuss the problems within their workforce, and resolve them in minimal time without seeking help from supervisors. Conclusion: This will help save a lot of work hours, boost productivity levels, and creates a helping and harmonious working environment.
Conclusion
Collaborative learning is an excellent form of learning that must be implemented on the official level of any organization. Incorporating collaborative learning into your professional development programs will help create and develop a simple and efficient workforce. Collaborating Learning helps the employee feel more connected to the organization as the personal essence of communication is involved in a formal environment.
Read More: Mumbai Woman Films A Man Who Shamelessly Showing His Dick AT The ATM To Her