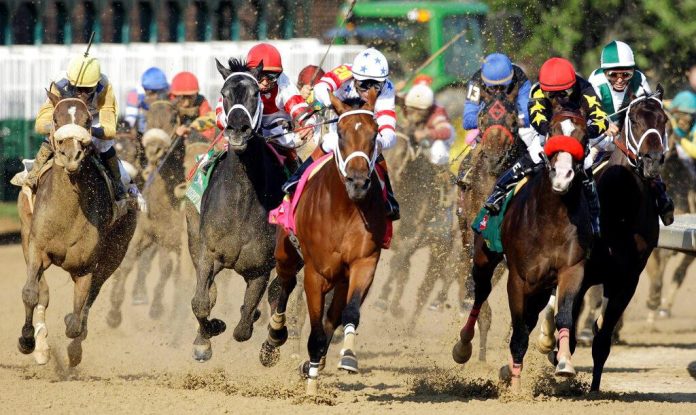 The "most exciting two minutes in sports" is back! With each passing day, we get closer and closer to the first Saturday in May, when the world's greatest thoroughbreds will race for glory at Churchill Downs.
Race after race, horses have been competing and earning points on the Road to the Kentucky Derby leaderboard, ultimately determining the 20 horses to make it to the starting gate on race day.
So, who are the top contenders for this year's Run for the Roses? Who has the speed, stamina, and heart to claim victory in one of the most prestigious events in sports? In this blog post, we'll break down the top contenders for the 2023 Kentucky Derby, giving you an inside look at the horses to watch as we approach the big day.
Forte
When it comes to Forte, one thing is sure: this horse has some serious talent. Trained by the legendary Todd Pletcher, Forte has been turning heads with his recent performances in the prep races leading up to the Kentucky Derby. His long, graceful strides and robust build make him a force to be reckoned with on the track.
What sets Forte apart from the pack is his recent performance in the prep races. He's been dominating the competition, leaving other horses in the dust as he speeds towards the finish line. Unsurprisingly, he's currently sitting pretty with 190 points accumulated, putting him at the top of the pack.
And when it comes to odds, Forte looks like the top 2023 Kentucky Derby pick with 3-1 odds. With his impressive recent performances, many are betting on him to take the Kentucky Derby by storm. So what can we expect from Forte race day?
We can expect nothing short of excellence if his recent performances are any indication. Forte is one horse to watch; many can't wait to see what he'll do next.
Practical Move
Trained by the talented Tim Yakteen, Practical Move has been a standout contender in the prep races leading up to the Kentucky Derby. His recent performances have been impressive, consistently finishing first place and accumulating 160 points.
Many experts believe that Practical Move has the potential to pull off a surprise victory at the Kentucky Derby, and his current odds (12-1) reflect that sentiment. With his consistent performances and unwavering determination, he's captured the attention of horse racing enthusiasts worldwide.
And with the experienced Tim Yakteen as his trainer, there's no telling just how far he'll go. So as we approach the 2023 Kentucky Derby, keep your eye on Practical Move. This talented horse may just surprise us all and come out on top.
Angel of Empire
Another horse that's been steadily gaining momentum in the horse racing world is Angel of Empire. Trained by Brad H. Cox, Angel of Empire has made a name for himself in the prep races leading up to the Kentucky Derby.
The young colt was the second finisher in the Smarty Jones Stakes. He then moved on and won the Grade 2 Risen Star Stakes and the Grade 1 Arkansas Derby, earning 154 points.
This massive point haul puts Angel of Empire in a strong position going into the Kentucky Derby, with current odds of 38-1. While the odds may not seem favorable to some people, Angel of Empire is a horse you cannot underestimate.
Tapit Trice
Tapit Trice is another exciting contender in the 2023 Kentucky Derby. Trained by Todd A. Pletcher, this colt has shown great potential in the prep races leading up to the big event.
The colt's recent performance in the Grade 1 Blue Grass Stakes was awe-inspiring, finishing in first place. This win earned him 100 points, putting him in a good position on the leaderboard. Before this victory, Tapit Trice won the Grade 3 South Tampa Bay Derby, earning 50 points.
Currently, Tapit Trice's odds stand at 8-1, which indicates his potential to win. Moreover, Tapit Trice is in good hands with Todd A. Pletcher as his trainer. Pletcher has a reputation for producing winning horses, and he's likely to have some tricks up his sleeve to help Tapit Trice achieve victory at the Kentucky Derby.
Two Phil's
Last but not least, we have Two Phil's, a horse slowly making its way up the leaderboard. Trained by Larry Rivelli, Two Phil's has performed well in the prep races leading up to the Kentucky Derby.
He finished second in the Grade 3 Lecomte Stakes, earning 8 points. He then moved on to the Grade 2 Risen Star Stakes, where he finished third, earning an additional 15 points.
Then, Two Phil's went on to win the Grade 3 Jeff Ruby Stakes, earning him another 100 points and bringing his total points to 123. His current odds currently sit at 88-1. Though that may seem unfavorable, it's worth noting that underdog horses have pulled off stunning upsets in the Kentucky Derby in the past.
So, while Two Phil's may not be among the top favorites, he has the potential to surprise everyone and come out on top in the race that matters the most. It'll be interesting to see how he performs on race day.
Conclusion
With only a few weeks left until the Kentucky Derby, the excitement is building up, and fans and bettors alike eagerly anticipate this much-awaited event's outcome. It will be interesting to see who among these thoroughbreds will emerge victorious on the big day.
Also Read More: In-House Payroll vs Outsourcing Payroll Software: Which is better?