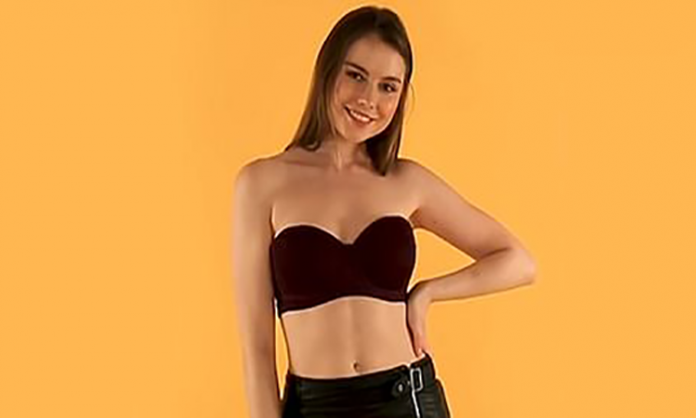 The straps in a bra act like an anchor and also help a little with lifting and supporting the breasts. However, a strapless bra is strategically designed to provide you with the much-needed support without any shoulder straps. This bra style is an excellent solution to problems like visible bra straps or annoying slipping straps. Strapless bras are the ideal option to be worn under tricky outfits like tube tops, bardot dresses, off shoulder gowns, spaghetti tops, slip dresses etc.
While we very well know about the benefits of a strapless bra, I have come across many women with bigger bust sizes who are pretty apprehensive about the idea of wearing a strapless bra. They are usually surrounded by questions like – "What if it falls down?" "Do they even make strapless bras my size?". Trust me, ladies, I have been there, and I've got it all figured out.
Women of every shape & size can effortlessly don a strapless bra. All you need to know is to pick the right kind of strapless bra for your breast shape.
If you have a smaller bust, fret not; all types of strapless bras will work well for you. You can pick up padded and push-up strapless bras. If you have a large breast, you need to examine the shape of your breast carefully. Many women have breasts with heavier bottoms; they can opt for an underwired bra for a gentle lift. If your breast goes in the east-west direction, you can choose a push-up bra as it moves the breast issues upwards and inwards for no show effect.
●  Strapless T-Shirt Bra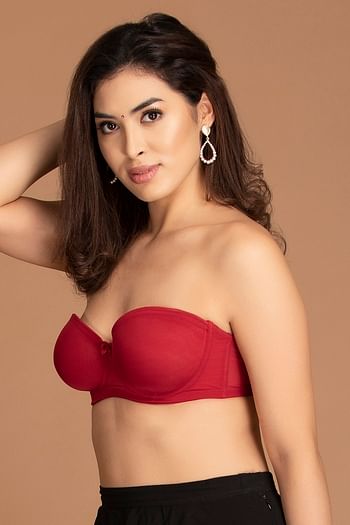 Everyone's favourite strapless T-shirt bra is a must-have. A T-shirt strapless bra comes with moulded cups that provide a smooth and seamless effect under body-hugging outfits. This bra is suitable for almost all types of bust, giving a natural shape to the breast. For a perfect silhouette, I would recommend Clovia's Cotton Rich Multiway Strapless Bra. This smoothly padded, non-wired, full coverage strapless bra ensures no side or top spillage. The detachable multiway straps are used to style tricky outfits. It is available in band sizes 32 to 40 and cup sizes B to D.
●  Strapless Bra with Transparent Straps
A strapless bra with transparent straps is ideal for backless tops, off-shoulder gowns, backless, and plunging necklines. The seamless cups ensure an effortlessly smooth finish and no pointing nipples under the dress. You can opt for a padded underwire demi cup strapless bra with transparent band and straps from Clovia. The demi-cup makes it suitable to adorn on deeper necklines and backless dresses. This strapless bra is available in 12 different colours in 32 to 40 band sizes and B to D cup sizes. The quality construction makes it all the more enticing.
●  Lightly Lined Strapless Bra
The lightly lined strapless bra offers a smooth finish without adding extra bulk to the breast. These bras have a thin layer of padding that hugs the breast comfortably. This style concerns more with flattering your natural breast shape.This bra style goes well with women with a heavy bust. If you are looking for a strapless bra, don't look beyond a lightly lined strapless bra from Victoria's Secret. This strapless bra features non-slip cups with silicone taping and a neatly aligned band that keeps the bra in place. The light padding makes it suitable for people with a large bust as it prevents clovithe added bulk of heavy padding. It is available in sizes ranging from 32A to 36 DDD(F).
●  Push Up Strapless Bra
If you are looking to give a slight boost to your breast, then a push up strapless bra is the option. This bra style is known to enhance cleavage and lift the heavier bottom slightly upwards & inwards creating a visible cleavage. According to your preference, you can decide between levels 1, 2 or 3. The level 1 push up bra enhances the cleavage, level 2 adds one cup size, and level 3 adds two cup sizes. This strapless bra seems perfect for women whose breasts point out in opposite directions. If you are looking for a gentle lift, La Senza's Strapless push-up bra is the one. The sleek microfiber cups with lightweight foam push up padding makes it an excellent strapless bra. It is available in two colours with band sizes- 32 to 38 and cup sizes C to DDD. This strapless bra can be a little heavy on the pocket, but the comfort is remarkable.
●  Bandeau Strapless Bra
Bandeau style strapless bras work best for small-busted women. It is a very simple design that often lacks any form of ideal support, but the fit of a bandeau strapless bra is a class apart. Bandeau bras can be styled as a strapless bra and a bikini top. My recommendation would be a padded bandeau bikini top from the H&M brand. The bandeau-style comes with removable cups which shape the bust and lend good comfort to the breast. These cups can be removed or inserted as per choice.
●  Underwired Strapless Bra
The best way to shape up saggy breasts in a strapless bra is to choose an underwired strapless bra style. A gentle lift of the bosoms with an underwire can make your breast look rounder and fuller. The strapless bra is wired for maximum support and helps in sculpting the breast while lending a neat look. Angie padded strapless underwired bra from Hunkemoller brand would be my recommendation. This expertly finished lacy strapless bra exudes a sexy appeal. This bra is available in almost all cup sizes, from AA to G.
Last words
Now, you can easily choose an ideal strapless bra according to your shape and size. You need not worry about styling your tricky outfits. If you are wearing a strapless bra for the first time, you need not compromise with comfort. Say hello to strapless fashion in style.