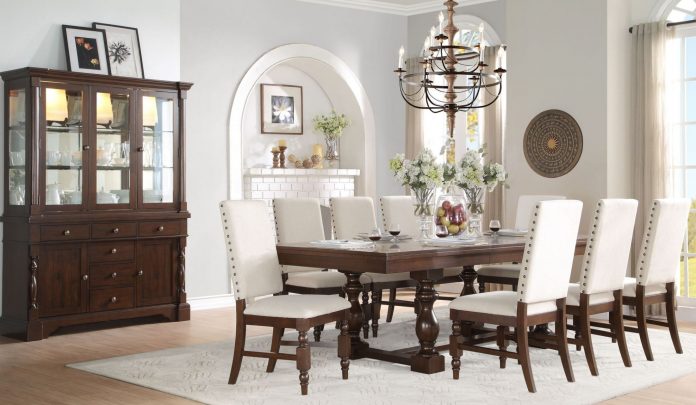 Once upon a time, the average dining room set consisted of a table that may or may not be extendable, and chairs sufficient for the surface area. But today's dining sets come with a myriad of options, making it easy for you to tailor your dining room to meet the needs of your children, your family, and your guests.
You are no longer tied to specific matching sets. You can pick and choose what works best for you, from benches to arm chairs, extensions to upholstered chairs. Here are just some of your options.
The family with small children
If you have small children, especially fidgeters, you want to be careful about what seating you purchase. Armchairs can break down quickly under the weight of a squirming child. Choose chairs that have folding arms. Adults will be comfortable, but your children won't break the arms.
You should also get only the number of chairs that you need for your immediate family and one or two guests. Usually this is 6-8 chairs in total. It is a good idea to have a card table and folding chairs at the ready as a children's table if you also like to entertain.
The blended or extended family
If your family size fluctuates frequently you might want to consider a configuration that is easily changeable. Tables that come with extenders are helpful, but you also need seating for the extra place settings. If you don't have a lot of storage, it is tempting to simply purchase a few folding chairs. But if you want your dining room to look stunning regardless of table size, you do have other options.
The best configuration for this dining room is a table with extension leaves, 4 to 6 chairs depending on smallest table size, and a bench. The bench can match your dining room set, but need not remain there all the time. It is easy to incorporate a bench into your other décor, using it to put on shoes, dress, or sit after a long shower.
The entertainer
An extendable dining table is important for those who love to host dinner parties as well, but a bench might not be the look you are going for. Look for dining chairs that can easily stack together in a corner or closet.
Another option is to purchase seat covers for all of the chairs in your dining set, with additional at the ready so that any chair can be made to match the set. You can get other wooden chairs that stack together more easily, or you can purchase folding chairs that can even be stored under a couch or bed.
With all of the options available, there is no doubt that you can find the right dining set for your household. Any additional chairs, benches, or other seating can be put to many uses as well, scattered throughout your home. Need more ideas? See details: https://www.1stopbedrooms.com/dining/dining-sets