It' high time we include 'Tharoorianism' in our dictionaries. Don't know what it is? It's the ability to unfailingly use the most perplexingly complex words in daily use. Who started this trend? The man, Shashi Tharoor himself!
Every time Shashi  Tharoor makes an appearance, he becomes the trending news. And it's in those moments we learn something new about our heritage, India, politics and sometimes, even ourselves.
Here are a few moments where he really shone and proved to the world that he is indeed matchless:
1. The time he wasn't allowed into his sister's wedding reception because he was wearing a kurta.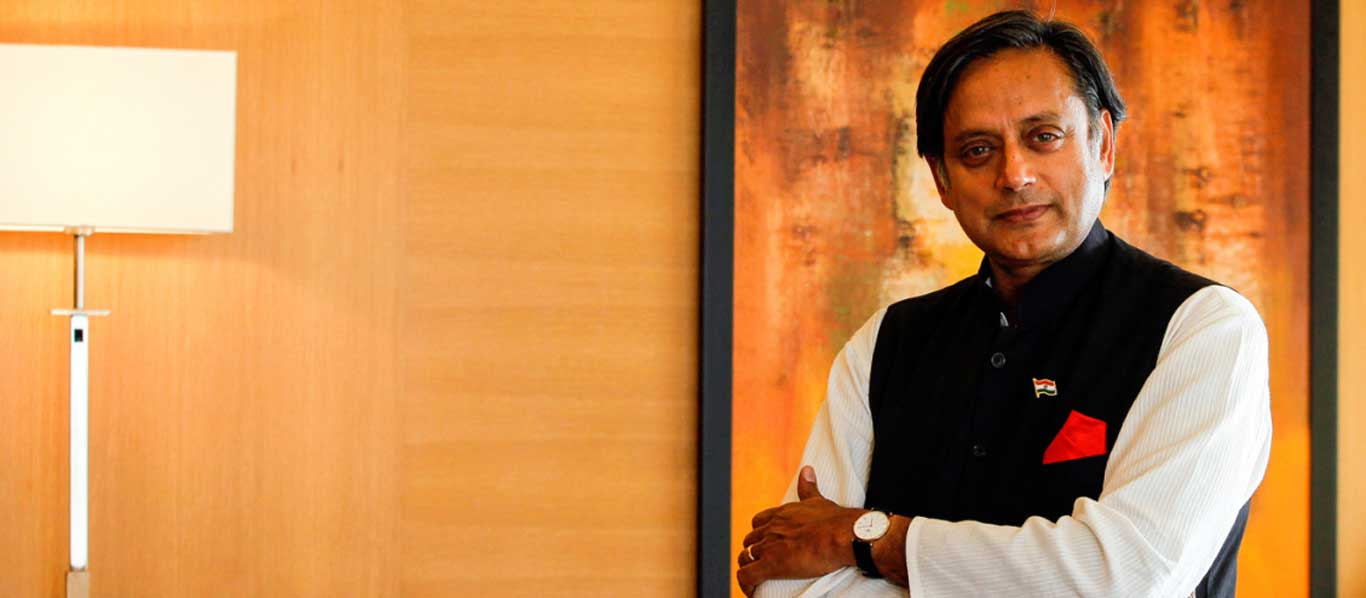 Image Souce
During an interview with NDTV, he shared an incident that was equal parts funny and sad. After reading the following, you'll realize how disbelievingly preposterous the whole situation was.
"I was denied entry to my own sister's wedding reception at the Madras Gymkhana in 1982 because I was wearing an expensive silk kurta which, of course, didn't have a collar: a sloppier T-shirt, which did, would have been acceptable to the custodians of the club's peculiar standards. On another occasion, I had to tuck my kurta into my pants since the club in question only permitted 'tucked-in shirts'".
These expressions on the favouritism that Western wear faces over Indian wear have beautifully changed the minds of many.
2. When he explained that Britain owes reparations for its atrocities in India.
This speech furthered his status as a legend. It was bold, witty and most of all brutal as it informed us all of how terribly the British colonialism affected India.
3. When he outed the truth about the "positive aspects" of British rule in India.
While appearing on ABC TV's Q&A panel discussion on the world of politics, an audience member asked a very compelling question that has been retained by colonial non-apologists recurrently in the past.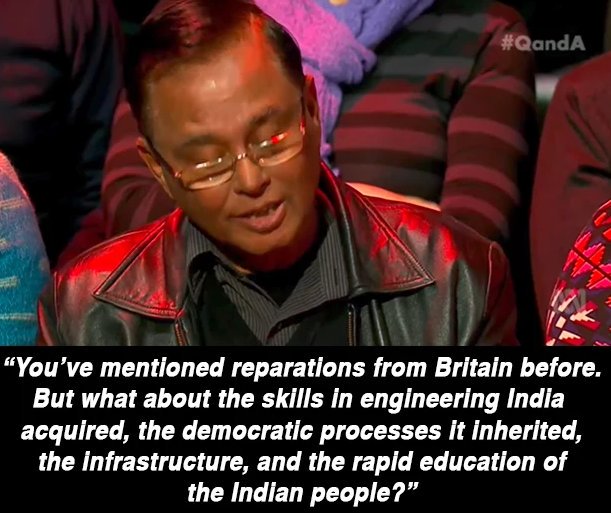 Image Souce
And as expected, Tharoor was having none of it. With concrete facts and figures, he shut down any theories of any positive colonialism might have had.
Watch the video here:
4. When he explained to the entire country why the entire Tanmay Bhat Snapchat fiasco was complete BS!
The dumbest of the dumbest Indians were up in arms over some fantasy, make-believe form of respect after comedian Tanmay Bhat posted some silly snaps using Lata Mangeshkar and Tendulkar filters. Tharoor accurately stated that, "cracking a bad joke is not against the law; it is bad taste at the most. Let's not deify human beings as being above and beyond criticism, cartoons or jokes."
5. When he posted the 'most secular' picture ever!
This picture truly proves how much Tharoor hates communalism. Sitting at the Y.M.C.A (Young Men's Christian Association) in Kerala, Tharoor is sitting left to three Muslim men as he talks to a swami in saffron. This gotta be the most secular picture ever!
6. When he introduced Indians to the most aristocratic word of 2017.
Exasperating farrago of distortions, misrepresentations&outright lies being broadcast by an unprincipled showman masquerading as a journalst

— Shashi Tharoor (@ShashiTharoor) May 8, 2017
Causing a farrago of its own, this tweet pretty much made everyone hurt their brains.