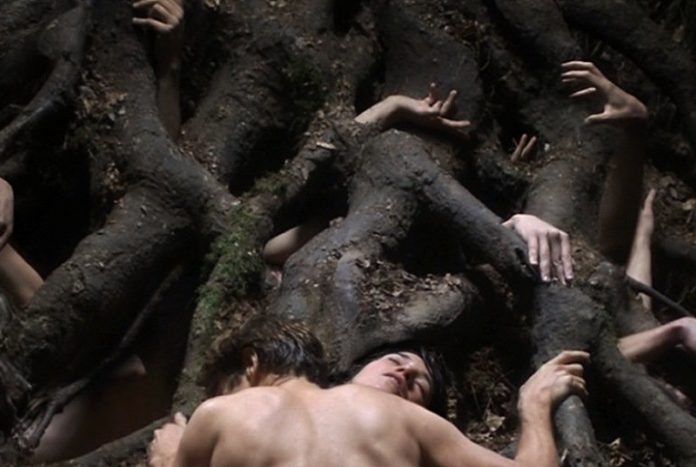 Can anything be more clichéd than porn films and bad acting? Yep, there exists a relationship between horror movies and nudity that has pretty much surpassed the old clichés. But did you know why this clichéd relationship exists in the first place? The two are innately genetically related. Part of that is because you're never more vulnerable than when you've got no clothes on, but there's also the fact that sexuality and the blur into animal behavior are closest during intercourse.
Due to this, sex has been smartly and greatly exploited in horror movies. It's used for provocation, to make you feel things, and to shock you to your very core even. Sex in horror can be tasteful or extremely explicit as a means to cheaply sell the movies by titillating the audiences.
When you put graphic sex on-screen without a valid reason, then it falls under "porn". After all, rarely does anyone notice the bad effects or the terrible script when there are bums, and boobs on the screen.
Here's a list of 10 horror movies that fall into the category of porn with cringe-worthy scenes.
1. Antichrist (2009)
Violent sex is a huge and disturbing part of this Danish film. Also included are a lot of dead bodies tangled up in the roots of trees, and dead foxes. The film not only includes some real vaginal intercourse, but it's also horribly violent and will ruin your entire day. Beware the faint-hearted!
2. Piranha 3D & 3DD (2010, 2012)
This movie is pretty much adolescent soft-core porn. While the movie should've been left to rot, thanks to a "smart" campaign of just putting large, barely covered breasts on its poster and claiming it was all comic, the first film got a sequel. The endless bikini shots coax the audience, calling to them like coke to a junkie. And "surprisingly" it worked, which lead to a greater opportunity of financing smut by introducing a sequel centered on an adult section in a waterpark. Why you may ask? Because of boobs of course.
3. Jennifer's Body (2009)
'Man-eater Megan Fox Strikes!' ain't a tabloid headline, but the USP of the movie 'Jennifer' Body. Every guy's fantasy comes true in this movie where Fox's character Jennifer dies unexpectedly and returns from the dead with an evil agenda of seducing guys and killing them after having sexual intercourse with them. A low-brow sex thriller, the film's only purpose is to tempt the audience with suggestive images and Fox's body of course. Nothing but a cheap thrill, all that stays with you is Megan Fox kissing Amanda Seyfried.
4. The Demoniacs (1974)
The Demoniacs scores high in terms of horror credentials; it's got monstrous evil pirates, rape, the Devil himself, a clown, and an exorcist. It's a horror full house!
The film uses sex as part of its horror as two shipwrecked girls are sexually assaulted by the "wreckers". Then comes the confusion whereby the wreckers are shown to be enjoying "normal" sex in a brothel, and the girls gain rancorous powers from a clown by having sex with him. The plot, though a bit cohesive leaves the audience perplexed that all they remember is the characters leaping from one sex scene to the next.
5. From Dusk Till Dawn (1996)
'From Dusk Till Dawn' is all horror and action. Salma Hayek plays the vampire-seductress-monster 'Satanica Pandemonium' with George Clooney and Quentin Tarantino in the lead roles. Hayek with her uninhibited portrayal of a blood-sucking vampire doesn't shy away from using the best tool at her disposal; her sexuality to get the job done. She's also a stripper in the movie, having a dance sequence with her carrying a snake in her bikini-clad body.
6. Don't Look Now (1973)
Back in 1973 when the movie came out, Don't Look Now was considered one of the most controversially sexy films ever. The horror movie will reasonably ruin your life if you watch it all alone. The movie was a bona fide scandal as it featured supposedly real sex.
7. Bram Stroker's Dracula (1992)
Francis Ford Coppola took a huge risk by introducing his version of the classic tale of Dracula, but it paid off immensely, and thus, we were introduced to one of his sexiest films ever. It's hard to go wrong with the subject matter of Dracula – there are ample opportunities to show unbridled passion and the premise itself is so dark and bloody that there is enough natural drama to keep the audience engaged and then of course there's sexual exploitation of Dracula and his bride and a hint of lesbian romance between Winona Ryder and Sadie Frost.
8. Friday The 13th(2009)
Jason Voorhees's entire arc is anti-porn, and the audience would have thought his films to be more invested in sexploitation and yet, the franchise is weirdly low on the sex scene count. And this holds until the dreadful 2009 remake because it comes across as though written by a young pot enthusiast; it's legitimately a bad porn script, not a movie script.
9. Nekromantik (1987)
Unless you have a morose fascination with bargain basement exploitation horror, don't watch Nekromantik. This necrophiliac horror love story wades way beyond such typical "cult" movies and feels more like censor bait with its dark taboos. It's an awfully difficult film to watch with its lurid and grotty scenes that owe a lot to the mechanics of pornographic film-making.
10. A Serbian Film (2010)
Disturbing doesn't cut it explains the range of perverse elements on display in 'A Serbian Film". The film has all the worst you could think of. There are scenes brutal and unruly that you feel violated and guilty about watching it. Director Srdjan Spasojevic's vision displays the darkest and most depraved desires one can have.
Also Read More: The 10 Best Movies Based on Real-Life Love Stories