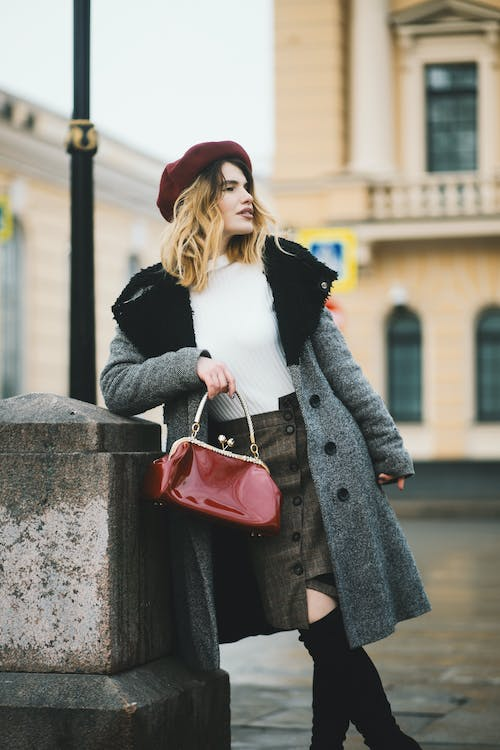 With winter slowly approaching, it means that it is time to put away your bright-colored tops and floral maxi dresses and pull out your fuzzy sweaters and snow boots to give a warm welcome to the upcoming season. But, while some thrive in the cold and enjoy wearing knitwear and corduroy pants, others can't help but wonder how they could look cute and warm when it is freezing outside. 
The thing is, opting for the usual wintry combinations such as dark denim jeans with neutral color sweaters and black ankle boots can get a bit dull, so one must look at the latest fashion trends for inspiration to put together fashionable and chic winter looks.
To help you along, we have written the ultimate fashion guide outlining the newest winter outfits and styles you should try out this season.
Minimalist jewelry
Unlike summertime when you can play with different jewelry styles, colors, shapes and sizes, winter calls for more minimalist and timeless pieces to put together stylish looks. This is because your clothing will cover most of your skin so you should opt for accessories that won't get caught up in your attire, but will still help you make a fashion statement.
For example, if you are wearing a turtleneck to work, you can instantly transform your outfit with a classic Akoya pearl strand over your top to add a touch of flair to your ensemble. Match the necklace with a pair of pearl stud earrings for a more sophisticated office look.
Attention-grabbing faux fur
Faux fur has always been regarded as one of the most commonly used materials for creating winter outwear clothing. However, the latest fashion trends show that designers are getting creative with the material and are using it to design both bold-colored and ultra-fluffy coats and jackets to help style icons up their winter fashion game.
For example, the cropped shaggy faux fur jacket is a very popular choice among fashionistas. It can be styled in numerous ways, but mostly with A-pencil skirts and over-bodycon dresses for a touch of luxury. 
Sheer fabrics
A trend that has definitely disrupted the winter fashion industry this year and is surely going to remain big in 2023 are sheer fabrics. Whether it is a see-through silky long-sleeve top or a ruffled slip dress, you will undoubtedly see this "naked" type of dressing anywhere, even when the temperatures drop below zero.
The great thing about sheer fabrics is that they can actually be styled in endless ways and with anything, including denim jeans, skirts and over tank tops. Because of their naked appearance, they are best reserved for evening outfits to create attractive looks.
Top-handle bags
When it comes to choosing the right handbag with your winter clothing, top-handle bags are the best option for you. These bags can easily hang off your lower arm, providing you comfort while wearing bulky layers and helping you make a bold fashion statement wherever you go.
And the best thing about them is that you can find them in many styles, colors, shapes and designs, all of which can add visual interest to your outfits while performing a functional purpose. You can pair them with any casual or formal clothing where they will serve as the focal piece of your entire ensemble.
Creamy knee-high boots
When it comes to winter footwear trends, knee-high boots continue to be one of the most popular choices among fashionistas. However, as the fashion industry changes, so does the style of this boot, with the creamy knee-high boots with track soles slowly becoming another staple accessory you need to have in your closet. 
You can style these boots with any type of clothing, although fashion lovers prefer to pair them mostly with denim jeans, fuzzy sweaters and a shaggy faux fur coat in a beige color. It is actually the perfect outfit for casual outings on a chilly winter day. 
Final thoughts
In addition to creating your standard winter staple wardrobe, you should also explore the latest fashion trends and enrich your closet with a few fashionable pieces. From the neutral color faux fur coats to the sheer fabrics, there are plenty of wintry garments that are taking over the streets and runways and allow fashionistas to put together cute and warm looks.
If you need help, be sure to refer to our post and read about the most recent winter fashion trends in 2023. 
Also Read More: 5 Secrets to looking great in T-shirts