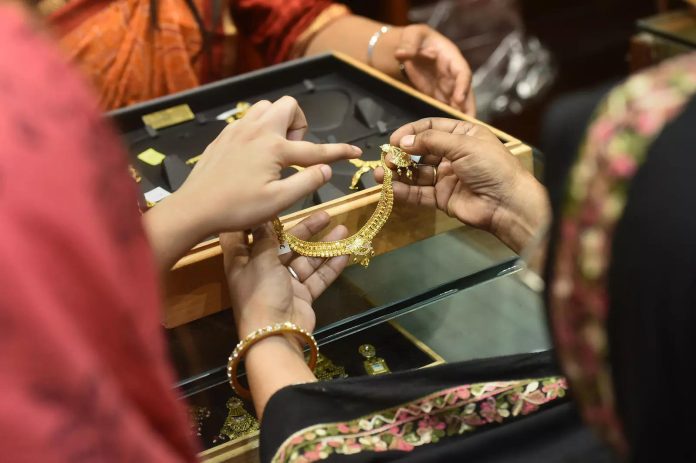 We all love buying jewellery and adorning ourselves with gold all year round. But if there's one day when you should definitely get gold and silver pieces it's Dhanteras! It is believed that buying precious metals on this day can bring good luck and prosperity to you and your family.
Which is why, during this auspicious day all jewellery stores are flooded with people buying gold and silver jewellery. Many people think- what should we buy on Dhanteras, and if you are one of them don't worry, we have all the answers for you!
You can shop for various jewellery pieces like earrings, necklaces, bangles, rings and more in both silver and gold. Buying gold coins of various denominations is also a popular choice for many. As these come in handy when you are thinking about what should we buy on Dhanteras to gift to your friends and family.
Dhanteras marks the beginning of the festive season in India, and there is celebration in the air. So, to answer your question about what should we buy on Dhanteras, here are some jewellery designs you can check out!
Rose gold diamond drop earrings
When you think of the festive season, only one thing comes to mind: Gold and diamonds. This pair of intricately crafted drop earrings are exactly that. With these statement earrings you can pair any simple ethnic outfit for a chic look.
The geometric design, and rose gold finish, add a modern and trendy vibe to your otherwise traditional look. You will be sure to be the belle of the ball with these earrings.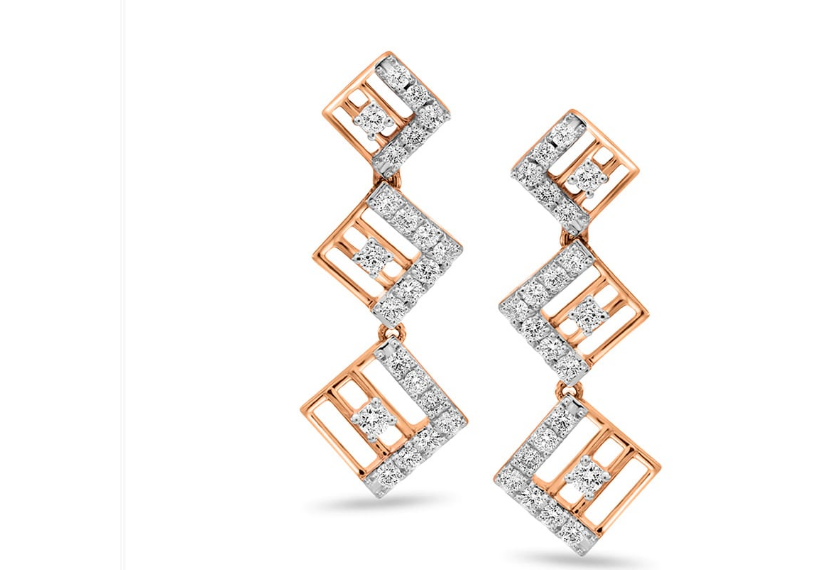 Diamond Pearl Earrings
The auspicious day of Dhanteras, asks for you to shop for precious metals that will bring prosperity for you and your family. This unique design of earrings is a good choice if you are unsure about which design to opt for.
Not only do these gold hoop earrings have beautifully encrusted diamonds, they also have pearls dangling from below. Taking this design to the next level, these earrings are simple and festive at the same time.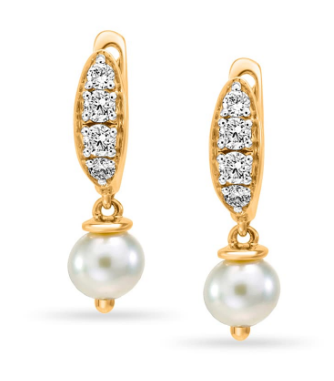 Reversible Gold and Diamond Ring
What's better than having one gold and diamond ring? It's having two of them in one! This ring has drop elements that are encrusted with diamonds on one side, and red gemstones on the other. This means that you can change the mood of the ring with just one flip!
If  you are wondering what should we buy on Dhanteras then this charming reversible ring should be the way to go! Depending on the outfit you are wearing, you can flip the ring and style it in a different way every time.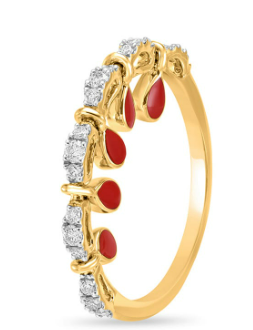 Geometric Necklace
Nothing gets the attention of a crowd more than a stunning necklace. To give your festive look a modern twist you can get this one-of-a-kind geometric necklace that is sure to make your look stand out. This design will give your festive look an edge and instantly elevate your style.
Made with 14kt rose gold and encrusted with diamonds, this is the festive accessory you need! You can style this with any outfit that has a deep neckline. With this piece, you don't have to worry about what you'll be wearing, since you can pair any simple white kurti and let this necklace do the talking.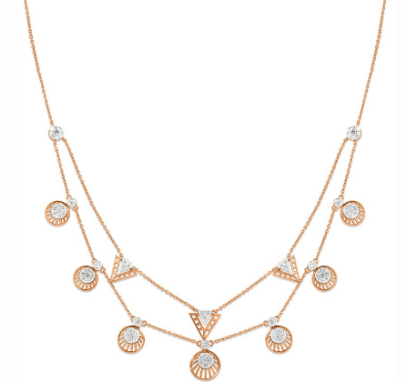 Where to Go Dhanteras Shopping?
Now that you've had a glimpse into the world of Mia by Tanishq, you might be considering these options when wondering what should we buy on Dhanteras. Yes, there are many other jewellery stores you can check out as well, but no one has the collection that you can find at Mia by Tanishq.
They are reliable, and credible jewellers, focusing on designs that will appeal to the modern women. This will ensure that whatever jewellery pieces you get will be worn multiple times and not be kept in a box for years. The designs are dainty and delicate, jewellery that you can wear to a party, office, and ofcourse, rock during the festive season!
So, what are you waiting for? Stop wondering what should we buy on Dhanteras and get shopping with Mia by Tanishq!
Also Read More: The Expansion of Financial Technology Companies