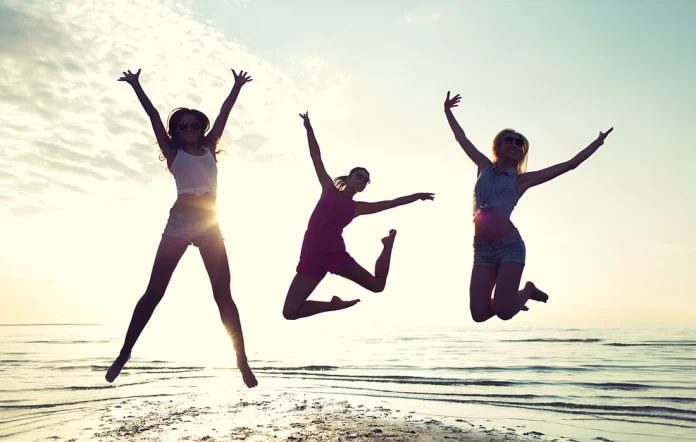 Summer is around the corner and beach lovers can't wait to show off some skin. You cannot fault them, especially after keeping warm throughout the winter and the springtime. To celebrate the season, some people take it as an opportunity to show off their summer bod. The beach is the perfect place for summer and summer-related activities.
Basking in the Sun
Whichever activity you would want to do, enjoying the summer sun tops the list. People come out with minimum clothes to benefit from the sun's rays. Carry enough beach wear that exposes more skin to the sun. Men need a pair of shorts and a vest. Some even prefer to go bare chest and show off their six-pack.
Ladies' summer beach wear includes swimwear covering their vital parts. It is also an opportunity to expose their skin to the sun, showing off beauty routines that keep their skin soft. Since they are obsessed with fashion, they color-match the brazier and pants. For those who are afraid of showing off their upper body parts, a light camisole will do, covering their thighs up to the knees. Irrespective of the beach wears, they should be light and allows the skin to breathe.
Enjoy Some Beach Sport
It is also another way to enjoy the summer at the beach. The sand, warm weather, and an easy time allow some recreation games. You need appropriate attire for the game. Men usually enjoy beach soccer barefoot, shirtless, and loose pairs of shorts. The running around opens up the skin pores, allowing maximum skin exposure to the sun. Volleyball and racing also feature significantly among beach sports.
Ladies can settle for netball, soccer, or running as a beach game. Their choice of sports attire is the same as those used when basking, although some wear tighter clothes. The running around and push-and-pull need to cover their vital parts since their bodies are sensitive.
Since the beach is sometimes up to capacity during summer, it is a perfect place to show off some summer bod as you benefit from the sun. Those who work out are the center of attraction as their curves, biceps, and well-built bodies make them appealing. To make it count, they wear designer clothes and match the colors with accessories as a fashion statement.
Engage in Watersport
The games are for a select few who know swimming and can control water vessels. Athletes and other watersport professionals are seen surfing against the wavers as they enjoy the attention. Those who know how to ride a speedboat also enjoy the experience. Such activities are a spectacle and give athletes a perfect audience to show off their summer bods.
Those who go for deep-sea sports also enjoy some warm weather. Summer weather at sea gives the best breeze that needs either light clothes or topless. Fewer clothes mean body exposure, which might improve your image, especially for workout enthusiasts.
Besides the pair of shorts, bra, and panties, a swimsuit is another common watersport apparel. They are body-fitting to reduce water intake that would make you heavy. Body-fitting swimsuits allow revelers to notice your summer bod and flawless skin. You can shop online and enjoy the discount and convenience that comes with online shopping.
How do You Attain a Perfect Summer Bod
Physical Exercise – have a vigorous body workout routine involving abs and legs. Physio-training gives the body enough stamina and strength to withhold extreme conditions, especially the change in the climate.
Hydrate – water is an important ingredient in body growth and development. It makes the body smooth and keeps the skin moist, making the person glow. Carry you water to the gym, office and everywhere else you go.
Monitor your diet – as much as body exercise is key, the type of food you eat contributes significantly to body shape. Eat lots of vegetables, protein, and healthy fats. Avoid junk and white-colored food that turns into sugar.
Take enough rest – sleeping is good for body development as it promotes weight loss and improves your mood. Consider sleeping at least 8 hours a day for better results.
Also Read: Flying First Class: 6 Luxury Travel Expenses Worth Splurging On