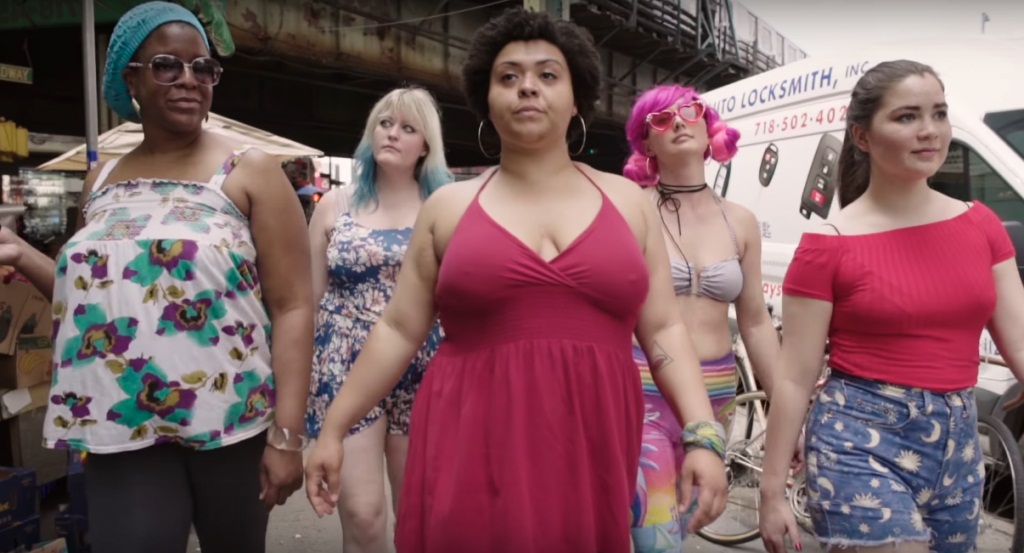 Shanthony Exum, popularly known as Miss Eaves, describes herself as a "feminist sound storm" from Brooklyn, New York, and her music as "electro-pop-rap-dance-explosions". Both of these descriptions get me excited just by reading them.
In an interview with Oxygen, she said, "I want women to feel empowered in their bodies (especially if they do not conform to society's ideals of what is beautiful) and expressing their sexuality."
Which fits perfectly with her newest track Thunder Thighs, off her upcoming album Feminasty (which is also my new favourite word). Feminasty debuts on August 4th, but she released the first single off the album on Jezebel on Monday.
[iframe class="post-video-frame" src="https://www.youtube.com/embed/fY1o9igy0a0″ width="100%" allowfullscreen="true"]
The video depicts women enjoying themselves, their bodies and the summer in the iconic New York neighbourhood of Bedford-Stuyvesant. It celebrates women with thick thighs and big butts is sundresses and mom jeans, and is basically the summer anthem we didn't know we needed until we got it. I mean, who doesn't relate to the song's opening line, "chub rub, the day is just heating up"? Miss Eaves directs her own videos, including this one, which she directed along with her friend April Maxey.
You also can't help but notice how the use of the word 'thick' in the song is such a refreshing departure from how it's been used in the media over the last couple of weeks, which has basically been to police and obsess nauseatingly over Rihanna's body.
Miss Eaves is the artist behind the hopelessly catchy Hump Day, a body-positive and all-round bad-ass track that celebrates female masturbation, and the pure efficiency of self-service
[iframe class="post-video-frame" src="https://www.youtube.com/embed/7S-fsQM5fKQ" width="100%" allowfullscreen="true"]
She additionally runs the truly energizing Instagram page The Every Body Project, which gives some real design motivation while working towards dissipating winning principles of magnificence and perfect body measure.