Priyanka Chopra and her Mother Once Again appeared in their 2nd Episode of "LITTLE BLACK BOOK"
Priyank Chopra is on a mission for global domination and she is winning the hearts. This beauty has collaborated with Harper's Bazaar and has come up with her own series called, "The Little Black Book" wherein she discusses and talks about everything in the life of 'Priyanka Chopra'. In the second episode, PeeCee sits down with her mother, Madhu Chopra discussing all things skincare.
Priyanka Chopra girl has referred to her mom as the "most important person in her little black book". In spite of working with the best stylists and makeup artists in the business, Priyanka always calls up her 'mother-genius' when she wants some beauty advice. She said, "Since she (Madhu Chopra) was a little girl she always took care of her skin and made me realize when I was a little girl the importance of it. Of course, when you're young, you don't listen as much but as I grew older I realized all these little tricks and amazing secrets that she had were integral to my skin."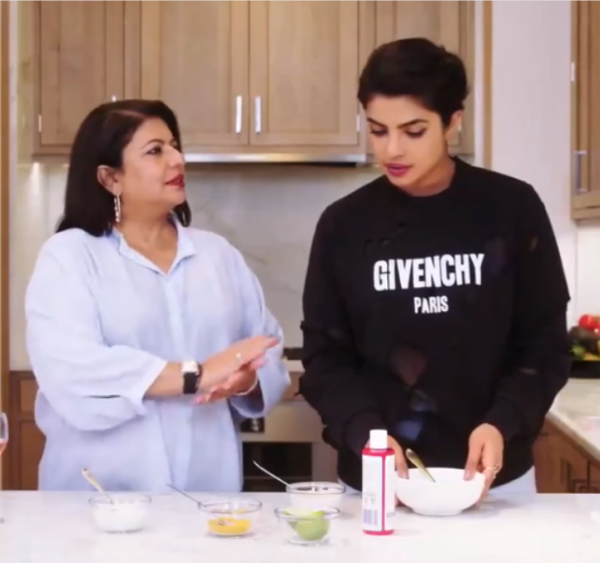 ,p>she suggests that we leave on the coconut oil on the skin for a few minutes and then rub it off with a warm towel to exfoliate it, hydrate and cleanse it, all in one. Madhu says, "When you go to bed your pores say ahhhhh," and we cannot wait to try this at home.
The Chopra ladies are huge fans of the DIY face mask called, "Ubtan", which is made with turmeric and basic home ingredients. You need 2 tablespoon of whole wheat flour, teaspoon of turmeric powder, lime juice, yoghurt and rose water. Mix all the ingredients together to make a paste of a desired consistency. Apply it nicely all over the face and leave it on for 15-20 minutes. Break up the mask before washing it away. The mask will help you get an instant glow and we can vouch for it because Priyanka Chopra's skin looks absolutely flawless.