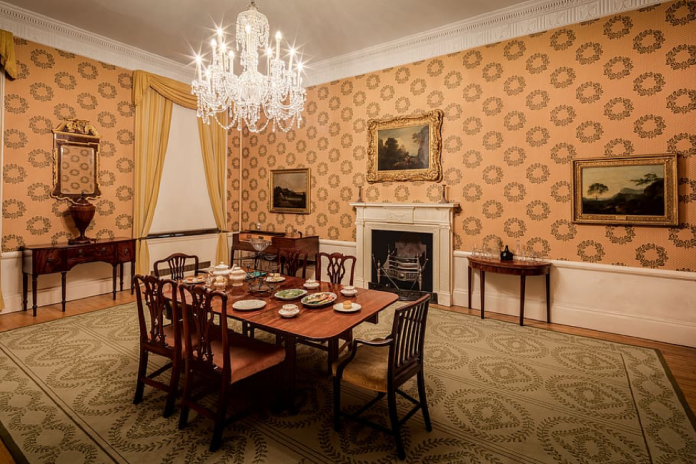 Who doesn't like a home inspired by classic, sophisticated styles? While contemporary and modern styles are making their mark, classic styles' luxurious, elegant appeal endures. Among all the traditional home decor styles you can adopt, neoclassical architecture is one to check out.
Neoclassical architecture is the revival of 18th-century architecture characterized by grandeur of scale, sober colors, clarity of form, strong horizontal and verticals, shallow space, and a timeless appeal.
The neoclassical style is one of those stylistic variations that have always intrigued homeowners and interior designers. It is a furnishing style that can dress every room of your home with elegance and opulence in a balanced formula.
Here, the discussion is about how you can transform your dining room by adopting neoclassicism. You will find help regarding choosing the right dining room furniture, the color palette, etc.
Undoubtedly, the dining table is central to the dining room design of your home. However, before choosing the dining table set in Kolkata, you need to set the stage and make some changes in the dining room, so the table feels comfortable and snug in its place. A neoclassical dining room is possible by maintaining a unified theme, and you cannot introduce a neoclassical dining table. In contrast, the rest of the room features modern design and furnishings.
Getting the dining room ready for a full-fledged dose of neoclassicism
Choosing the Right Color Palette
The first step is selecting the right color palette to complement the dining table. The neoclassical style calls for neutral colors like ivory, cream, silver, and gold. Shades of such neutral colors add depth and are perfectly in tune with the standards of the classic style.
If you don't want to paint the walls, you can use wallpapers resembling neoclassical style.
Don't Forget to Use Decorative Lighting
When decorating your dining room, don't forget to include decorative lighting. An illuminated room helps to highlight all the different design features and characteristics of a room and enhance the overall appeal.
You can use lighting to create a welcoming ambiance, and the fixtures can feature neoclassical elements. For instance, you can use decorative lamps or chandeliers.
You can opt for lighting solutions using different materials, such as glass, crystal, copper iron, or gilded wooden stands. The lights will communicate the kind of mood you wish to convey in your dining room.
Prefer Furniture With Decorative Details
The atmosphere of your dining room will take shape due to the decorative details, such as columns, cymas, and friezes. These unique details embellish the furniture and accentuate its stylistic power. You must select home furniture in Kolkatathat showcases meticulous finish and decorative patterns.
Use Classic-Style Carpet To Warp The Room In Elegance
The composition of the room will be complete if you use a classic-style carpet. The decorative touch of the carpet will add style and comfort to your dining room. You can use a large carpet to cover the entire room or choose different small carpets to cover the dining table, chairs, and other furnishings.
Opt for Fine Furnishing Accessories
Embellish the room by using the decorative power of fine furnishing accessories like brass candelabras with silver and gold lacquer, gilded details, decorated table lamps, and hand-painted dishes to hang on the wall. These great visual elements pay homage to the neoclassical style and lend extravagance to the dining room.
Now that you've set the dining room's mood, you have to get a neoclassical dining table. The factors to consider are briefly described below.
Assessing the size of your dining room is paramount when you're deciding on where the dining table set will be placed, and it'll give you an idea of the dining table size that'll suit the room.
When measuring the size, ensure a comfortable distance between the wall and edge of the dining table. Also, there must be ample space between other types of furniture and accessories in the room so that people can move around freely.
The size of the dining room is critical when deciding on the table's shape. If there's limited space, you can opt for round dining tables that don't take up a lot of space and suit the room.
If you love throwing parties and entertaining, it'll be best to select a triangular-shaped table that can seat more people at a time. But, this would depend on the size of your dining room.
Finishes and Material of the Table
The choice of finishes and material is a crucial decision. The neoclassical dining tables must exude aesthetic factors, and they can be made of strong and long-lasting woods like oak, mahogany, or walnut. But, the colors will be bold.
If you want something sober, you can choose a dining table with a glass top, and it'll be perfect for various decorations. As glass tables are reflective, it'll make your dining room brighter.
You save a world of trouble by opting to buy dining table sets that come with complementary chairs. You don't have to think twice about sets because they're designed and crafted, keeping the theme and style in mind.
If you wish to buy the dining table and chairs separately, you need to ensure they match. Creating new combinations is challenging, and unless you know what you're doing, it is best to stick to dining table sets.
So, you are all set to dabble in the neoclassical style for your dining room. The selection of the right color and lighting fixture will set the mood, while the dining table set can be the centerpiece that brings together all the design elements.